Advance New Current Affairs 29th September 2020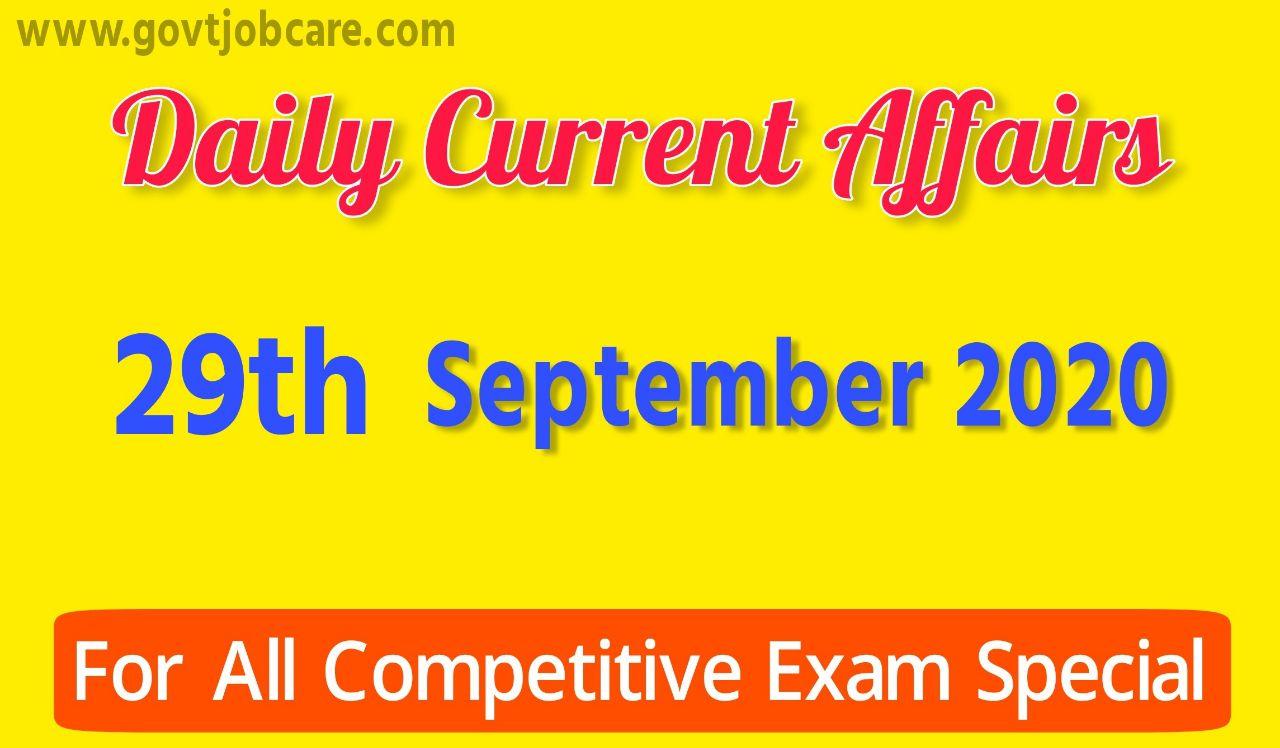 Advance New Current Affairs: 2020 Current Affairs Pdf is a very important subject for all examinations. Advance New Current Affairs is the section in which candidates or all students are able to solve more and more Weekly Current Affairs questions in a short time and can bring more marks or scores in the examinations. Online Advance New Current Affairs GK Question, you do not need to do special effort to memorize the questions of the online GK quiz test, but you need to read the questions carefully. September Current Affairs Pdf 2020 provided here, It is very important for you to have the strong general knowledge to get success in UPSC, UGC, NET, WBCS, RAIL, POLICE, RPF, TET, NTPC, PSC, GROUP-D, SSC, etc.
29th September 2020 Advance New Current Affairs
International Flim Festival Of India 2021 will be held in Goa.

An agreement was signed between India and Denmark to enhance cooperation in "Intellectual Property Rights".

Neena Gupta wrote the book titled "Sach Kahun Toh".

Yuvraj Singh has been appointed as the Brand Ambassador of Aakash Educational Services.

The newly appointed five-member women's selection committee of the Board of Control for Cricket in India (BCCI) is headed by Neetu David.

Alexander Lukashenko is elected President of Belarus.

Medical Device Park called MedSpark is going to be built in Kerala.

"Shanti Swarup Bhatnagar Prize" 2020 Award received Dr. Subhadeep Chaterjee, Dr. Vatsala Thirumalai, Dr. Jyotirmayee Dash, Dr. Subi Jacob George, Dr. Abhijit Mukherjee, Dr. Suryendu Dutta, Dr. Amol Arvindrao, Dr. Kingshuk Dasgupta, Dr. Rajat Subhra Hazra, Dr. Bushra Ateeq, Dr. Ritesh Agarwal, Dr. Rajesh Ganapathy These 12 researchers.

"Visitassam" app launched by the Government of Assam.

Indian Agriculture Research Institute (IARI) was inaugurated by Union Agriculture Minister Narendra Singh Tomar.
Download: Click Here Current Affairs 2020 Monthly Pdf
Daily Advance New Current Affairs September 2020:
Govtjobcare Current Affairs
Govtjobcare Advance New Current Affairs:
Govtjobcare Advance New Current Affairs: It is very important for you to have the Govtjobcare Advance New Current Affairs to get success in UPSC, UGC, Net, WBCS, Rail, Police, RPF, NTPC, PSC, Group-d, SSC, or other examinations. Because Govtjobcare Current Affairs are asked a lot. If your current affairs are good, then in this you can solve more questions in a very short time and you can spend the remaining time in the questions of international current affairs, psc current affairs, speedy current affairs 2020, new current affairs 2020, online current affairs and other subjects and get good marks. For current affairs related questions, you can visit this website regularly because it is the best website for current affairs. Here we update the latest current affairs. Maximum questions related to current affairs are asked in the examinations. For this, you visit here regularly to prepare for the best current affairs.