Banking Current Affairs: Govtjobcare Current Affairs 14th April 2020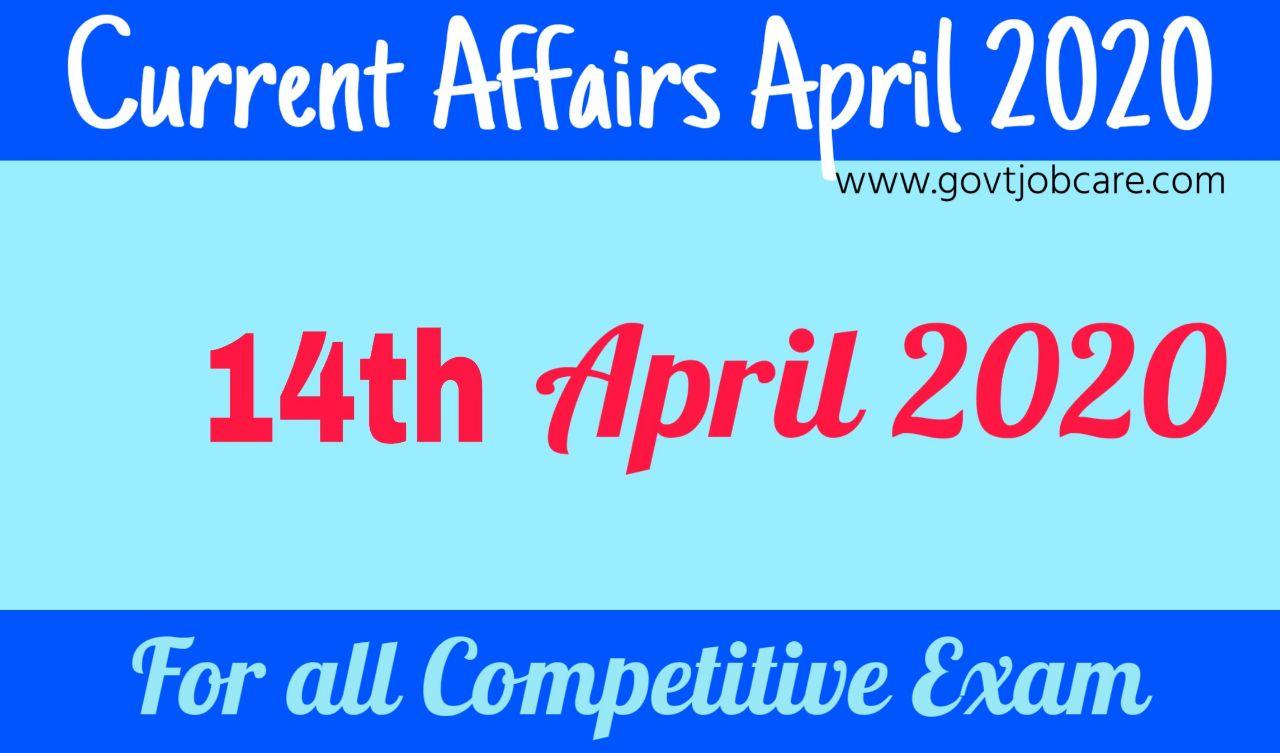 Banking Current Affairs: 2020 Current Affairs Pdf is a very important subject for all examinations. Banking Current Affairs is the section in which candidates or all students are able to solve more and more Weekly Current Affairs questions in a short time and can bring more marks or scores in the examinations. Online Current Affairs GK Question, you do not need to do special effort to memorize the questions of the online GK quiz test, but you need to read the questions carefully. April Current Affairs Pdf 2020 provided here, It is very important for you to have the strong Banking Current Affairs to get success in UPSC, UGC, NET, WBCS, RAIL, POLICE, RPF, TET, NTPC, PSC, GROUP-D, SSC, etc.
14th April 2020 Banking Current Affairs
1. Every year on the 14th of April 'World Chagas Disease Day' is observed.
2. 14th April Dr. B.R. The birth anniversary of Ambedkar was observed.
3. 14th April 2020 Bengali New Year is celebrated in several places including West Bengal and Tripura.
4. Steve Ballmer is the world's richest sports team owner.
5. Boxing Federation of India (BFI) will host the Asian Boxing Confederation Championships 2020 in November-December.
6. Indian Prime Minister Narendra Modi extended the lockdown period till May 3rd to prevent the rapid spread of Covid-19.
7. Joe Biden 'Becomes Democratic Nominee for 2020 US Presidential Election.
8. IIT-Bombay created a digital stethoscope called "AyuSynk".
9. The CIRES satellite of the National Aeronautics and Space Administration (NASA) will issue volcanic and earthquake alerts.
10. Birupaksha Mishra has taken over as Executive Director of Union Bank of India.
Daily Banking Current Affairs April 2020:
Govtjobcare Current Affairs: It is very important for you to have the Govtjobcare Current Affairs to get success in UPSC, UGC, Net, WBCS, Rail, Police, RPF, NTPC, PSC, Group-d, SSC, or other examinations. Because Govtjobcare Current Affairs are asked a lot. If your Banking Current Affairs are good, then in this you can solve more questions in a very short time and you can spend the remaining time in the questions of international current affairs, psc current affairs, speedy current affairs 2020, new current affairs 2020, online current affairs and other subjects and get good marks. For current affairs related questions, you can visit this website regularly because it is the best website for current affairs. Here we update the latest current affairs. Maximum questions related to current affairs are asked in the examinations. For this, you visit here regularly to prepare for the best current affairs.