Current Affairs 14th August 2020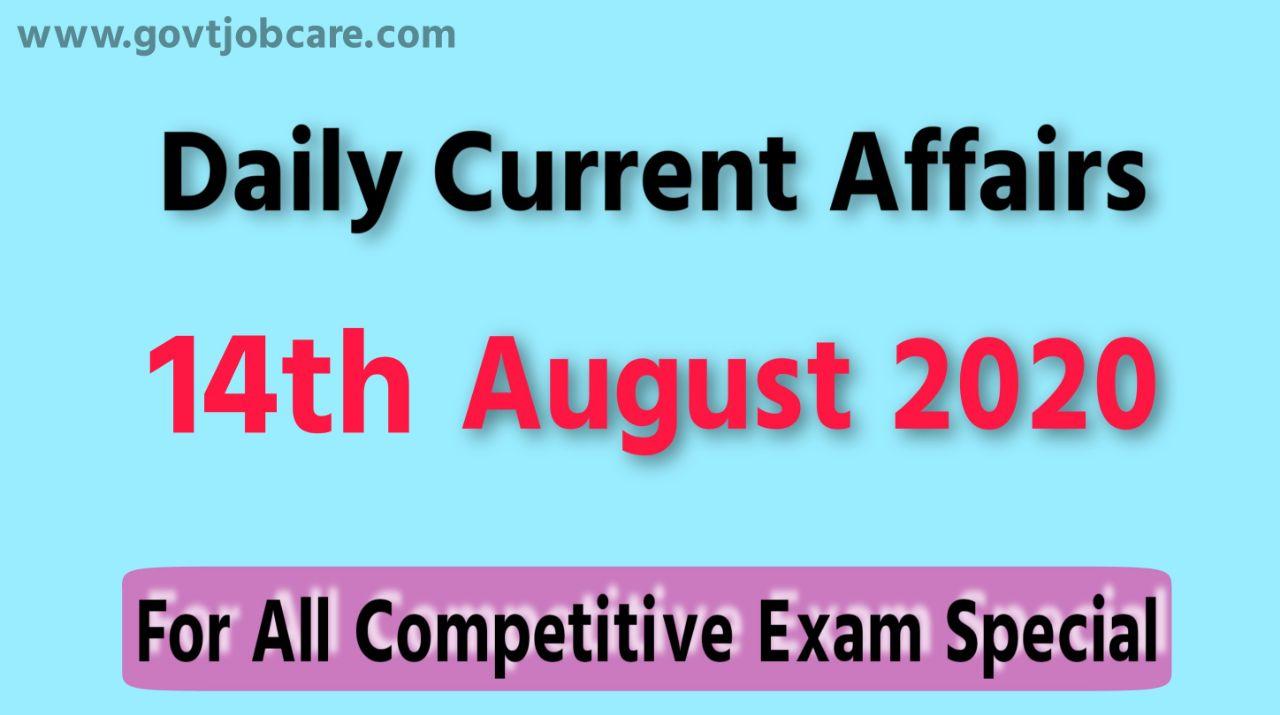 Current Affairs: 2020 Current Affairs Pdf is a very important subject for all examinations. Current Affairs is the section in which candidates or all students are able to solve more and more Weekly Current Affairs questions in a short time and can bring more marks or scores in the examinations. Online Current Affairs GK Question, you do not need to do special effort to memorize the questions of the online GK quiz test, but you need to read the questions carefully. August Current Affairs Pdf 2020 provided here, It is very important for you to have the strong general knowledge to get success in UPSC, UGC, NET, WBCS, RAIL, POLICE, RPF, TET, NTPC, PSC, GROUP-D, SSC, etc.
14th August 2020 Current Affairs
Pramod Bhasin has recently been appointed as the Chairman of the Indian Council for Research on International Economic Relations (ICRIER).

Recently, the Price Monitoring and Resource Unit is being set up in the state of Karnataka.

Recently, the state of Tamil Nadu is about to launch the first Electric Vehicle Park in India.

Israel successfully tests a ballistic missile interceptor named "Arrow – 2".

According to the recent Indian Achievers Forum India (IAF), "CEO of the Year – 2020" is Gagan Arora.

Vice Admiral Dinesh K Tripathi has recently been appointed as Director General Naval Operations (DGNO).

Recently the Ministry of Youth Affairs and Sports is going to organize "Fit India Freedom Run".

The Government of India will provide 500 million to build a major project in the Maldives recently.

Recently, Rajnath Singh launched the "Naval Innovation and Indigenization Organization".

Recently "Sarthak" Vessel has been launched in the Indian Coast Guard

.
Download: Current Affairs July 2020 Pdf
Download: Current Affairs 2020 Monthly Pdf
Daily Current Affairs August 2020:
Govtjobcare Current Affairs
Govtjobcare Current Affairs:
Govtjobcare Current Affairs: It is very important for you to have the Govtjobcare Current Affairs to get success in UPSC, UGC, Net, WBCS, Rail, Police, RPF, NTPC, PSC, Group-d, SSC, or other examinations. Because Govtjobcare Current Affairs are asked a lot. If your current affairs are good, then in this you can solve more questions in a very short time and you can spend the remaining time in the questions of international current affairs, psc current affairs, speedy current affairs 2020, new current affairs 2020, online current affairs and other subjects and get good marks. For current affairs related questions, you can visit this website regularly because it is the best website for current affairs. Here we update the latest current affairs. Maximum questions related to current affairs are asked in the examinations. For this, you visit here regularly to prepare for the best current affairs.