Exclusive Current Affairs: Govtjobcare Top Current Affairs 18th July 2020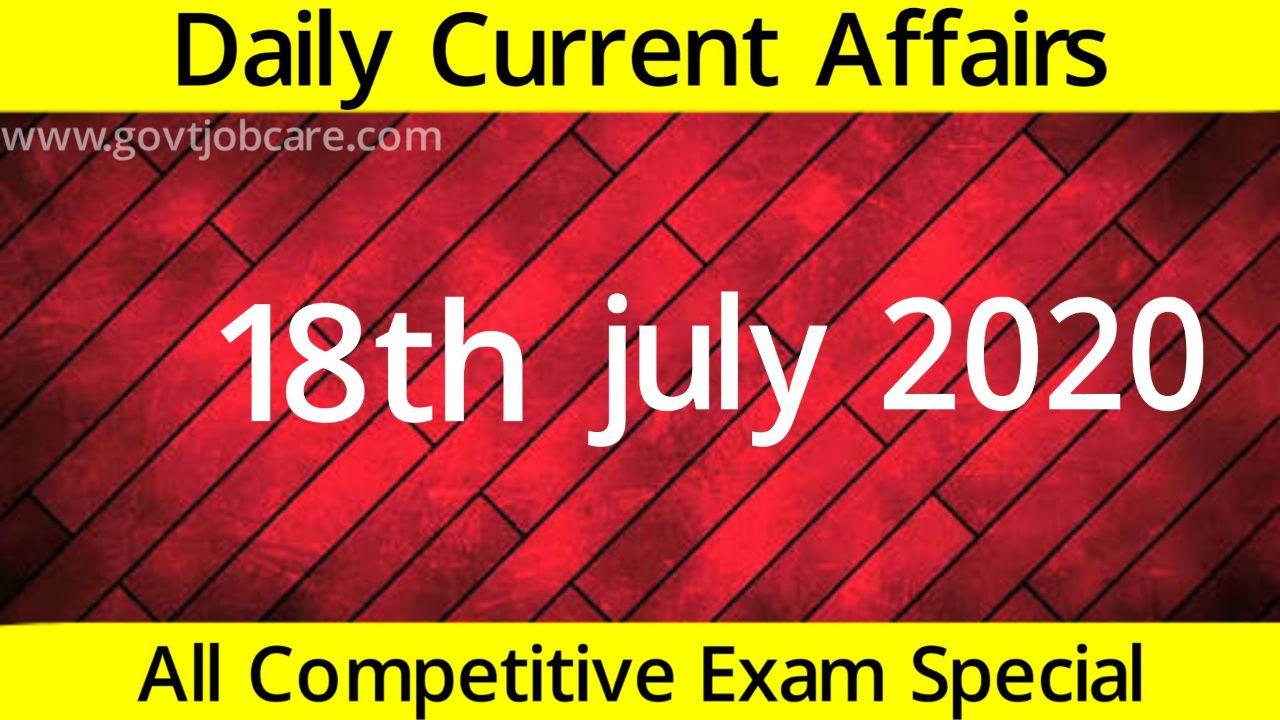 Exclusive Current Affairs: 2020 Current Affairs Pdf is a very important subject for all examinations. Exclusive Current Affairs is the section in which candidates or all students are able to solve more and more Weekly Current Affairs questions in a short time and can bring more marks or scores in the examinations. Online Exclusive Current Affairs GK Question, you do not need to do special effort to memorize the questions of the online GK quiz test, but you need to read the questions carefully. July Current Affairs Pdf 2020 provided here, It is very important for you to have the strong general knowledge to get success in UPSC, UGC, NET, WBCS, RAIL, POLICE, RPF, TET, NTPC, PSC, GROUP-D, SSC, etc.
18th July 2020 Exclusive Current Affairs
1. "Nelson Mandela International Day" is celebrated on 18th July every year.
2. Arunachal Pradesh Chief Minister Pema Khandu has published a book titled "The Tangams: An Ethnolinguistic Study Of The Critically Endangered Group of Arunachal Pradesh".
3. Recently the Government of Uttarakhand launched a project called "Waste to Energy".
4. Recently Telangana State Police launched the "CybHer" Campaign.
5. India ranks 3rd in the recently released Global Manufacturing Risk Index 2020.
6. Elyes Fakhfakh recently resigned as Prime Minister of Tunisia.
7. Arjun Award-winning badminton player Ramesh Tikaram recently died of Covid-19.
8. The Government of Uttar Pradesh has recently started a fertilizer distribution program for farmers in the state.
9. "Infra Business Leader of the Year" 2020 Honored Ved Parkash Dudeja.
10. Rose Christiane Ossouka Raponda becomes Gabon's first female Prime Minister.
Download: June 2020 Current Affairs Pdf
Download: 2020 Monthly Current Affairs Pdf
Daily Exclusive Current Affairs July 2020:
Govtjobcare Current Affairs
Govtjobcare Current Affairs:
Exclusive Current Affairs: It is very important for you to have the Exclusive Current Affairs to get success in UPSC, UGC, Net, WBCS, Rail, Police, RPF, NTPC, PSC, Group-d, SSC, or other examinations. Because Govtjobcare Current Affairs are asked a lot. If your current affairs are good, then in this you can solve more questions in a very short time and you can spend the remaining time in the questions of international current affairs, psc current affairs, speedy current affairs 2020, new current affairs 2020, online current affairs and other subjects and get good marks. For current affairs related questions, you can visit this website regularly because it is the best website for current affairs. Here we update the latest current affairs. Maximum questions related to current affairs are asked in the examinations. For this, you visit here regularly to prepare for the best current affairs.