Gk Current Affairs Today 8th October 2020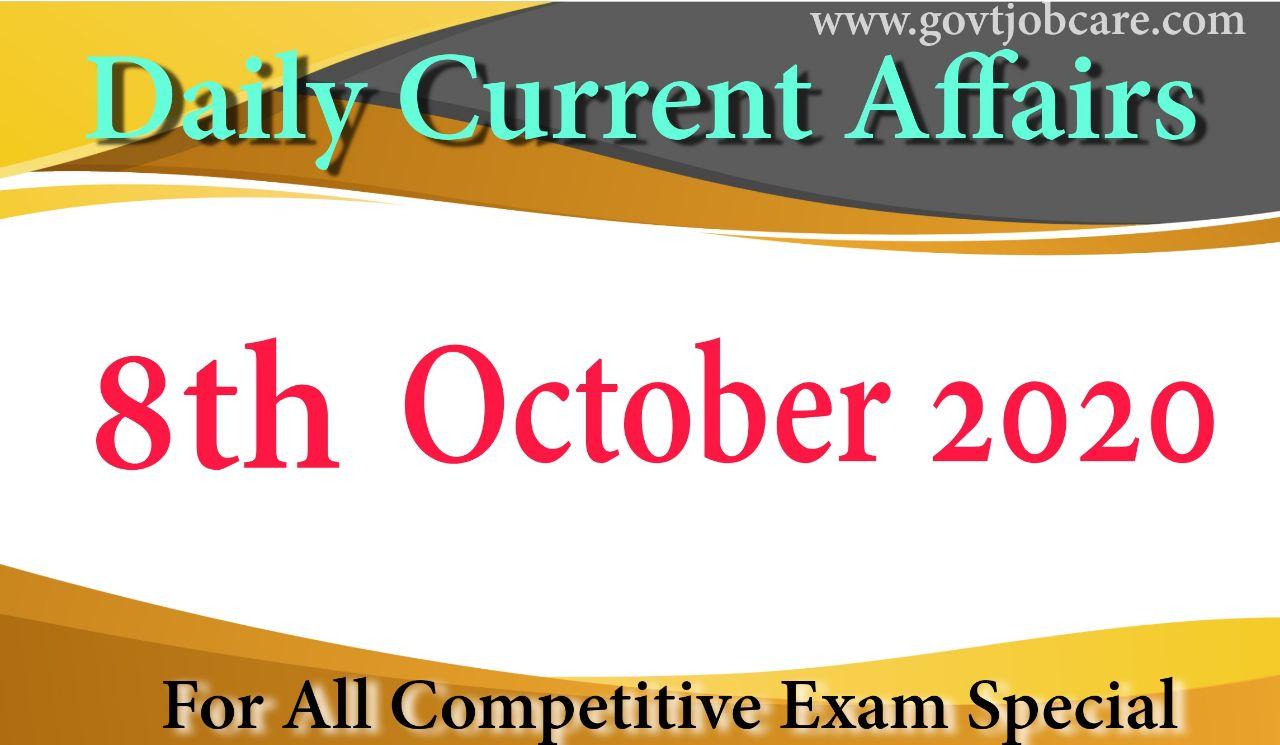 Gk Current Affairs Today: 2020 Current Affairs Pdf is a very important subject for all examinations. Gk Current Affairs Today is the section in which candidates or all students are able to solve more and more Weekly Current Affairs questions in a short time and can bring more marks or scores in the examinations. Online Gk Current Affairs Today GK Question, you do not need to do special effort to memorize the questions of the online GK quiz test, but you need to read the questions carefully. October Gk Current Affairs Today Pdf 2020 provided here, It is very important for you to have the strong general knowledge to get success in UPSC, UGC, NET, WBCS, RAIL, POLICE, RPF, TET, NTPC, PSC, GROUP-D, SSC, etc.
8th October 2020 Gk Current Affairs Today
"Indian Air Force Day" is celebrated on 8th October every year.

Manish Sisodia recently launched a book titled "Bapu – The Unforgettable".

Harvey J. Alter, Michael Houghton, and Charles M. Rice recently won the "Nobel Prize" in medicine in 2020.

Anand Neelakantan recently wrote a book titled "The Very, Extremely, Most Naughty Asura Tales for Kids".

Recently Naugarh Railway Station was renamed as Siddharthnagar Railway Station.

New Development Bank (NDB) recently approved $ 500 million loans for Delhi Meerut Regional Rapid Transit System (RRTS).

Recently appointed M.A. as Director-General of Bureau of Civil Aviation Security (BCAS). Ganapathy.

Padampani Bora recently wrote a book titled "Discovering The Heritage of Assam".

Dinesh Kumar Khara has recently been appointed as the Chairman of State Bank of India (SBI).

Recently National Institute Of Naturopathy Tribal Unit has been established in Pune.
Download: Click Here Current Affairs 2020 Monthly Pdf
Daily Gk Current Affairs Today October 2020:
Govtjobcare Current Affairs
Govtjobcare Gk Current Affairs Today:
Govtjobcare Gk Current Affairs Today: It is very important for you to have the Govtjobcare Gk Current Affairs Today to get success in UPSC, UGC, Net, WBCS, Rail, Police, RPF, NTPC, PSC, Group-d, SSC, or other examinations. Because Govtjobcare Current Affairs are asked a lot. If your current affairs are good, then in this you can solve more questions in a very short time and you can spend the remaining time in the questions of international current affairs, psc current affairs, speedy current affairs 2020, new current affairs 2020, online current affairs and other subjects and get good marks. For Gk Current Affairs Today related questions, you can visit this website regularly because it is the best website for current affairs. Here we update the latest current affairs. Maximum questions related to current affairs are asked in the examinations. For this, you visit here regularly to prepare for the best current affairs.