Live Current Affairs: 15th June 2020 Daily Current Affairs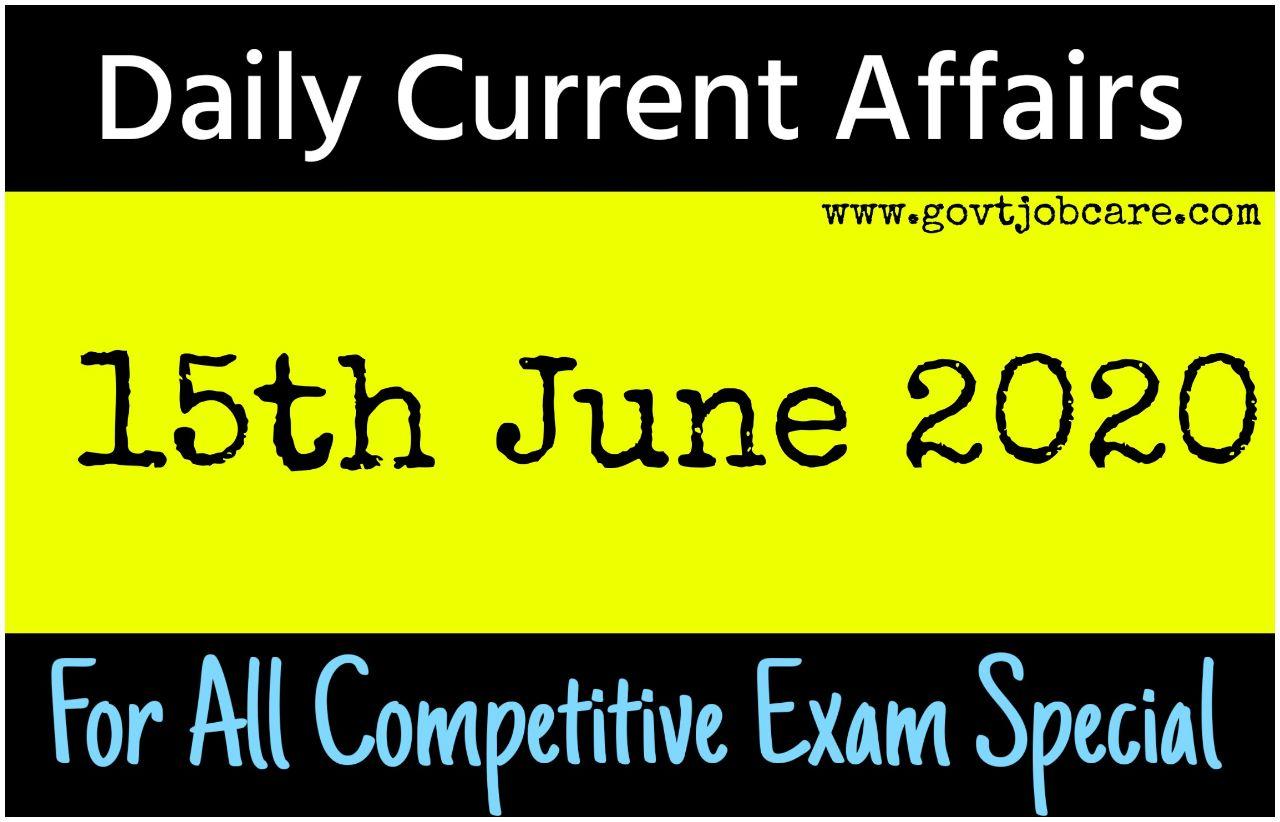 Live Current Affairs: 2020 Current Affairs Pdf is a very important subject for all examinations. Live Current Affairs is the section in which candidates or all students are able to solve more and more Weekly Current Affairs questions in a short time and can bring more marks or scores in the examinations. Online Live Current Affairs GK Question, you do not need to do special effort to memorize the questions of the online GK quiz test, but you need to read the questions carefully. June Current Affairs Pdf 2020 provided here, It is very important for you to have the strong general knowledge to get success in UPSC, UGC, NET, WBCS, RAIL, POLICE, RPF, TET, NTPC, PSC, GROUP-D, SSC, etc.
15th June 2020 Live Current Affairs
1. "World Wind Day" is celebrated on 15th June every year.
2. "World Elder Abuse Awareness Day" celebrated June 15.
3. "National Smile Power Day" is celebrated on 15th June.
4. IISc Bangalore has created "Workplace Readiness Indicator" to protect workplaces from Covid-19.
5. Anmol Narang is the first Sikh woman to graduate from the American Military Academy.
6. Disaster Management launches "iFLOWS" to warn of floods in Mumbai.
7. Defense Research and Development Organization (DRDO) created the "GermiKlean" Chamber to Sanitize Defense Forces Uniforms.
8. India ranks 43rd in IMD's World Competitiveness Index, Singapore's rank 1st.
9. Recently Airtel Payments Bank launched the "Salary Account".
10. Lt Gen Raj Mohan Vohra, who recently received the "Mahabir Chakra" award, died after being infected with Covid-19.
Download: May 2020 Current Affairs Pdf
Download: 2020 Monthly Current Affairs Pdf
Daily Live Current Affairs June 2020:
Govtjobcare Current Affairs
Govtjobcare Current Affairs:
Live Current Affairs: It is very important for you to have the Govtjobcare Current Affairs to get success in UPSC, UGC, Net, WBCS, Rail, Police, RPF, NTPC, PSC, Group-d, SSC, or other examinations. Because Govtjobcare Current Affairs are asked a lot. If your current affairs are good, then in this you can solve more questions in a very short time and you can spend the remaining time in the questions of international current affairs, psc current affairs, speedy current affairs 2020, new current affairs 2020, online current affairs and other subjects and get good marks. For current affairs related questions, you can visit this website regularly because it is the best website for current affairs. Here we update the latest current affairs. Maximum questions related to current affairs are asked in the examinations. For this, you visit here regularly to prepare for the Live Current Affairs.