New Fast Current Affairs 14th September 2020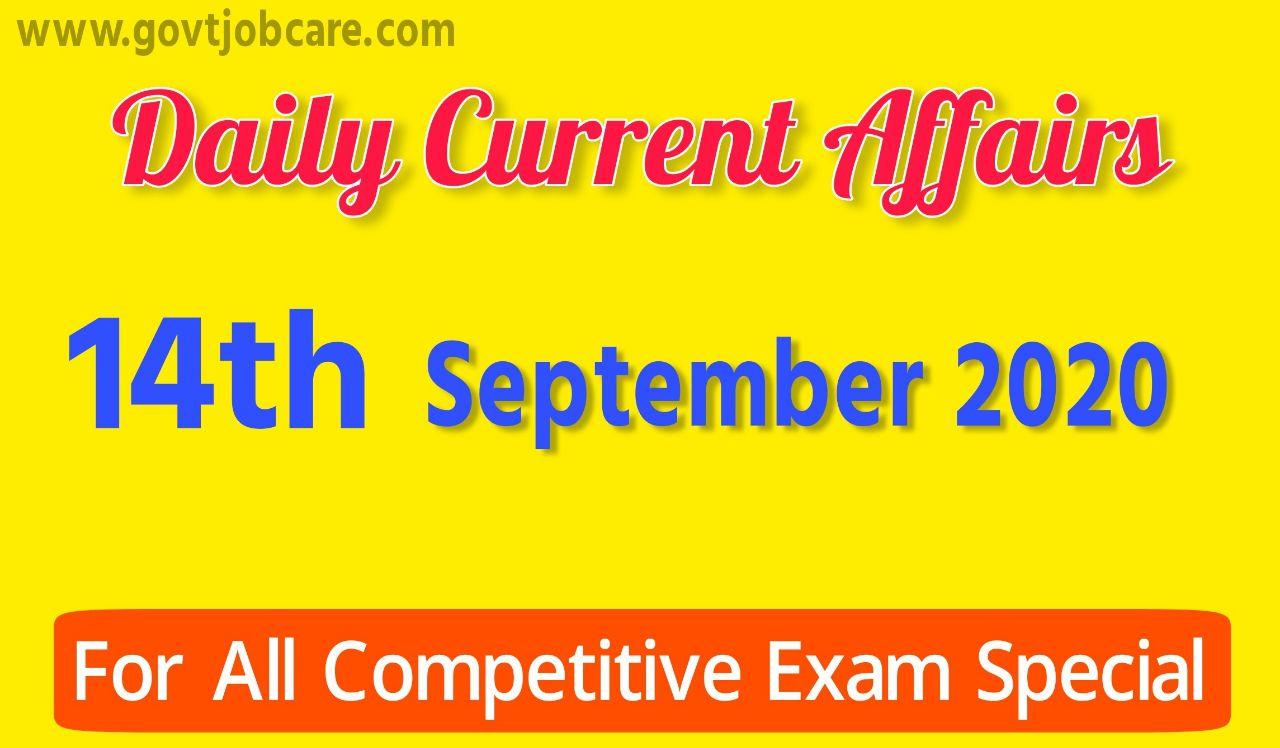 New Fast Current Affairs: 2020 Current Affairs Pdf is a very important subject for all examinations. New Fast Current Affairs is the section in which candidates or all students are able to solve more and more Weekly Current Affairs questions in a short time and can bring more marks or scores in the examinations. Online New Fast Current Affairs GK Question, you do not need to do special effort to memorize the questions of the online GK quiz test, but you need to read the questions carefully. September Current Affairs Pdf 2020 provided here, It is very important for you to have the strong general knowledge to get success in UPSC, UGC, NET, WBCS, RAIL, POLICE, RPF, TET, NTPC, PSC, GROUP-D, SSC, etc.
14th September 2020 New Fast Current Affairs
Every year 14th September "Hindi Day" is celebrated.

Subhash Kamath has recently been appointed as the Chairman of The Advertising Standard Council Of India.

Recently the Government of Madhya Pradesh re-launched "Deendayal Antyodaya Rasoi Yojana".

Vice President Venkaiah Naidu recently suggested adding milk to the "Mead Day Meal Scheme" for children's nutrition.

Naomi Osaka recently won the Us Open Title 2020 in the women's category.

Punjab Chief Minister Amarinder Singh recently launched the "Smart Ration Card Scheme".

Gujarat recently announced the "Heritage Tourism Policy".

Recently Maharashtra Chief Minister Uddhav Thackeray launched a campaign against Covid-19 called "My Family, My Responsibility".

England's famous actress Diana Rigg recently passed away at the age of 82.

Iran recently launched a three-day military exercise called "Zolfaghar-99".

The Government of Orissa recently launched the "GARIMA" Welfare Scheme.
Download: Click Here Current Affairs 2020 Monthly Pdf
Daily New Fast Current Affairs September 2020:
Govtjobcare Current Affairs
Govtjobcare New Fast Current Affairs:
Govtjobcare New Fast Current Affairs: It is very important for you to have the Govtjobcare New Fast Current Affairs to get success in UPSC, UGC, Net, WBCS, Rail, Police, RPF, NTPC, PSC, Group-d, SSC, or other examinations. Because Govtjobcare Current Affairs are asked a lot. If your current affairs are good, then in this you can solve more questions in a very short time and you can spend the remaining time in the questions of international current affairs, psc current affairs, speedy current affairs 2020, new current affairs 2020, online current affairs and other subjects and get good marks. For current affairs related questions, you can visit this website regularly because it is the best website for current affairs. Here we update the latest New Fast Current Affairs. Maximum questions related to current affairs are asked in the examinations. For this, you visit here regularly to prepare for the best current affairs.