RRB NTPC Current Affairs: Govtjobcare Current Affairs 22nd April 2020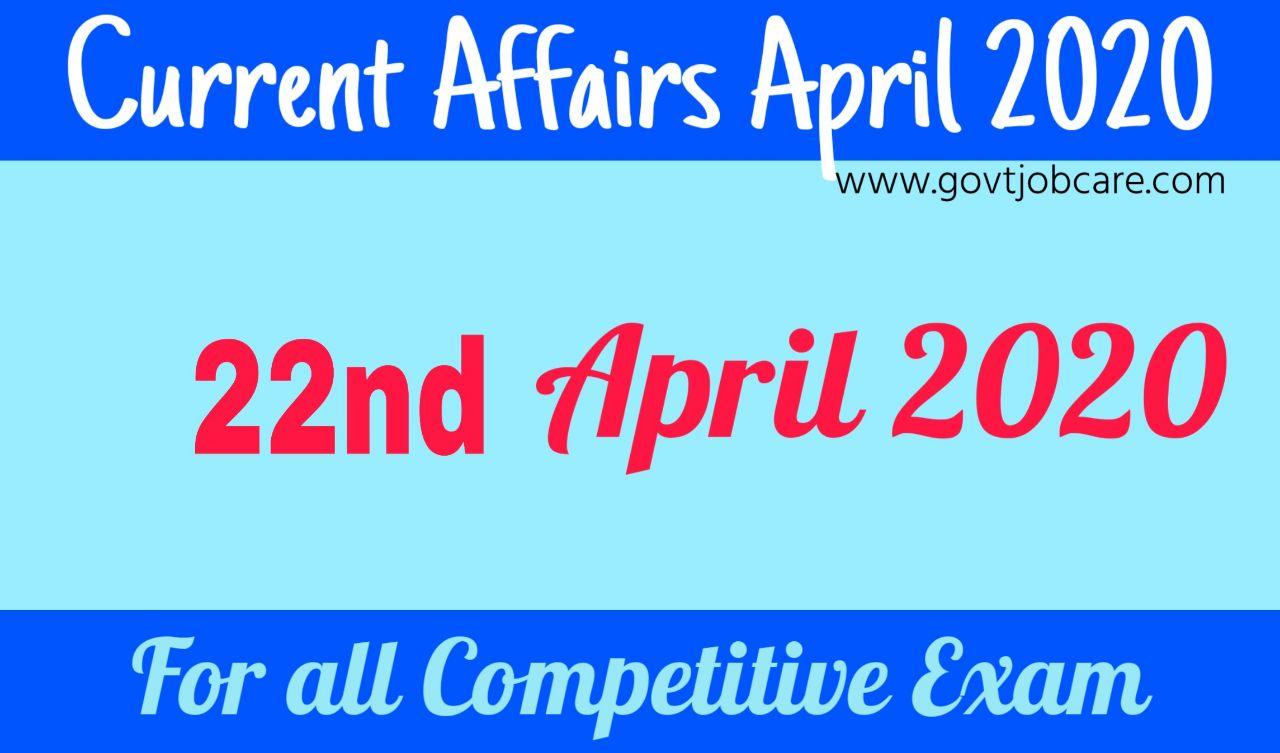 RRB NTPC Current Affairs: 2020 Current Affairs Pdf is a very important subject for all examinations. RRB NTPC Current Affairs is the section in which candidates or all students are able to solve more and more Weekly Current Affairs questions in a short time and can bring more marks or scores in the examinations. Online RRB NTPC Current Affairs GK Question, you do not need to do special effort to memorize the questions of the online GK quiz test, but you need to read the questions carefully. April Current Affairs Pdf 2020 provided here, It is very important for you to have the strong RRB NTPC Current Affairs to get success in UPSC, UGC, NET, WBCS, RAIL, POLICE, RPF, TET, NTPC, PSC, GROUP-D, SSC, etc.
22nd April 2020 RRB NTPC Current Affairs
1. "Earth Day" is celebrated worldwide on 22nd April every year.
2. The theme of this year's "Earth Day" was "Climate Action".
3. The Lebanese government legalized cannabis cultivation for the country's financial crisis, medical and industrial development.
4. David Li has been appointed as the new CEO of Huawei Telecommunications India.
5. Pathanamthitta district of Kerala has launched a vehicle called "Tiranga" (Total India Remote Analysis Nirogya Abhiyaan) for quick screening of symptoms of Covid-19.
6. Union Health Minister Dr. Harsh Vardhan launched an interactive platform called "COVID India Seva" to address the questions of citizens of the country regarding Covid-19.
7. The Government of Gujarat started 'Sujalam Sufalam Jal Sanchay Abhiyan' to increase the depth by removing silt from various lakes, dams and rivers.
8. Pune Municipal Corporation launched an app called "Saiyam" to track the citizens in Home Quarantine.
9. Iran recently launched the first military satellite named "Noor".
10. Norway ranks first in the "World Press Freedom Index 2020" and India ranks 142nd.
Daily RRB NTPC Current Affairs April 2020:
Govtjobcare Current Affairs: It is very important for you to have the RRB NTPC Current Affairs to get success in UPSC, UGC, Net, WBCS, Rail, Police, RPF, NTPC, PSC, Group-d, SSC, or other examinations. Because Govtjobcare Current Affairs are asked a lot. If your current affairs are good, then in this you can solve more questions in a very short time and you can spend the remaining time in the questions of international current affairs, psc current affairs, speedy current affairs 2020, new current affairs 2020, online current affairs and other subjects and get good marks. For current affairs related questions, you can visit this website regularly because it is the best website for current affairs. Here we update the latest current affairs. Maximum questions related to current affairs are asked in the examinations. For this, you visit here regularly to prepare for the best current affairs.