Top Smart Current Affairs 29th October 2020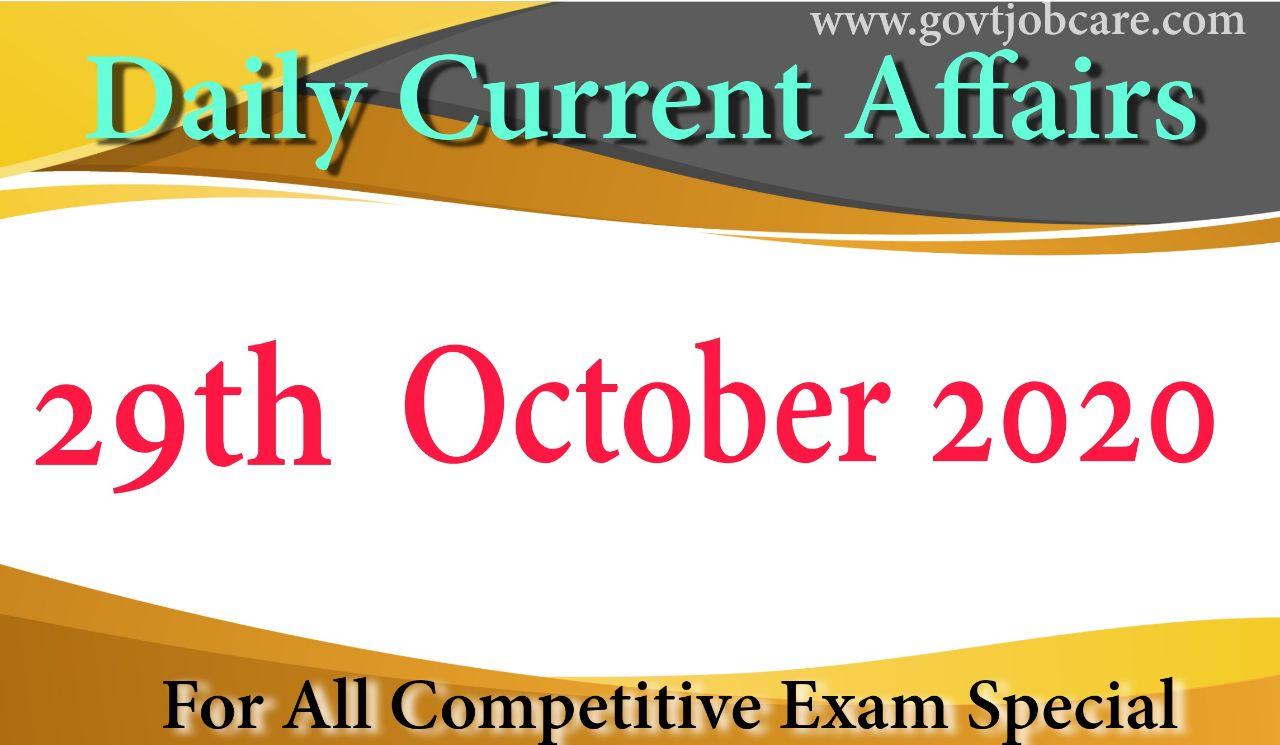 Top Smart Current Affairs: 2020 Current Affairs Pdf is a very important subject for all examinations. Top Smart Current Affairs is the section in which candidates or all students are able to solve more and more Weekly Current Affairs questions in a short time and can bring more marks or scores in the examinations. Top Smart Current Affairs GK Question, you do not need to do special effort to memorize the questions of the online GK quiz test, but you need to read the questions carefully. October Current Affairs Pdf 2020 provided here, It is very important for you to have the strong general knowledge to get success in UPSC, UGC, NET, WBCS, RAIL, POLICE, RPF, TET, NTPC, PSC, GROUP-D, SSC, etc.
29th October 2020 Top Smart Current Affairs
"The Vigilance Awareness Week" is being celebrated from 27th October to 2nd November 2020.

Recently won the Raksha Mantri Trophy 2019 AFMS Command Hospital.

The largest Cardiac Hospital in India has recently been set up in Ahmedabad, Gujarat.

Bimal Julka has recently been appointed as the Chairman of the Federation of Indian Fantasy Sports (FIFS).

Recently, the Prime Minister of India Narendra Modi was invited to participate in the 50th Independence Day of Bangladesh.

ICICI Bank has recently stopped all its activities in Sri Lanka.

Union Minister Mansukh Mandaviya recently inaugurated the "Direct Port Entry" (DPE) facility in Tamil Nadu.

Recently Tourist Destination In 2019 Uttar Pradesh has won first place in this list.

Punjab Government has recently launched Dr. BR Ambedkar SC Post Matric Scholarship Scheme.

Dr. Jajini Varghese was recently honored with "Outstanding Young Person Of The World 2020".
Download: Click Here Current Affairs 2020 Monthly Pdf
Daily Top Smart Current Affairs October 2020:
Govtjobcare Current Affairs
Govtjobcare Top Smart Current Affairs:
Govtjobcare Top Smart Current Affairs: It is very important for you to have the Govtjobcare Top Smart Current Affairs to get success in UPSC, UGC, Net, WBCS, Rail, Police, RPF, NTPC, PSC, Group-d, SSC, or other examinations. Because Govtjobcare Current Affairs are asked a lot. If your current affairs are good, then in this you can solve more questions in a very short time and you can spend the remaining time in the questions of international current affairs, psc current affairs, speedy current affairs 2020, new current affairs 2020, online current affairs and other subjects and get good marks. For Top Smart Current Affairs related questions, you can visit this website regularly because it is the best website for current affairs. Here we update the latest current affairs. Maximum questions related to current affairs are asked in the examinations. For this, you visit here regularly to prepare for the best current affairs.