10 Latest Current Affairs: Govtjobcare Current Affairs 10th May 2020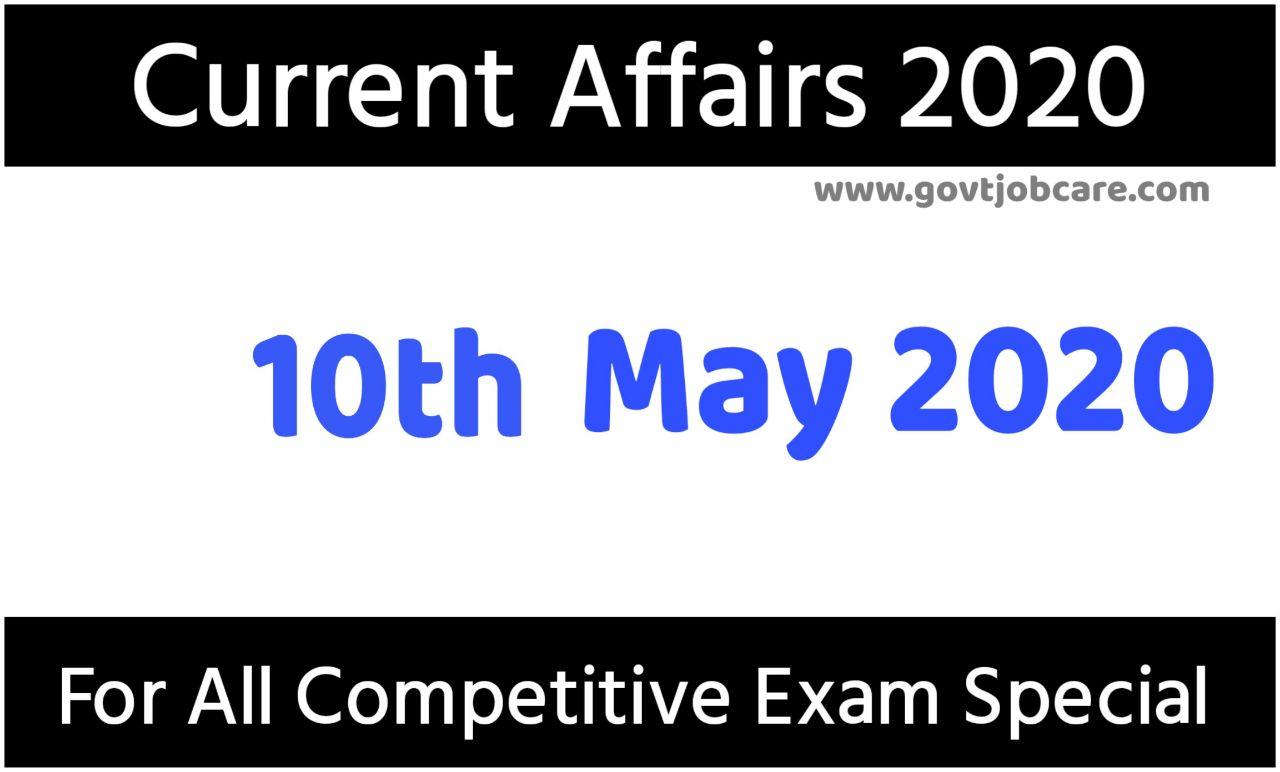 10 Latest Current Affairs: 2020 Current Affairs Pdf is a very important subject for all examinations. 10 Latest Current Affairs is the section in which candidates or all students are able to solve more and more Weekly Current Affairs questions in a short time and can bring more marks or scores in the examinations. Online 10 Latest Current Affairs GK Question, you do not need to do special effort to memorize the questions of the online GK quiz test, but you need to read the questions carefully. May Current Affairs Pdf 2020 provided here, It is very important for you to have the strong general knowledge to get success in UPSC, UGC, NET, WBCS, RAIL, POLICE, RPF, TET, NTPC, PSC, GROUP-D, SSC, etc.
10th May 2020 10 Latest Current Affairs
1. IIT-Delhi has developed a reusable Antimicrobial Mask called "NSafe".
2. Karnataka Vikas Grameena Bank (KVGB) recently launched the "Vikas Abhaya" Scheme.
3. India and Russia recently signed an MoU for "Coking Coal".
4. This is the first time in India that the Maharashtra government is providing free cashless insurance to the people of the state.
5. Indian Council of Medical Research (ICMR) has entered into an agreement with Indian Post to supply Covid-19 Testing Kits.
6. Mahindra launches the "Own-Online" platform for buying vehicles.
7. The Delhi government has decided to charge 70% "Special Corona Fee" on liquor.
8. ICICI Bank Headquarters has been shifted from Gujarat to Mumbai.
9. Abidali Z Neemuchwala recently resigned as CEO and MD of Wipro Company.
10. Andhra Pradesh government recently launched a mobile app called "CMAPP" (Comprehensive Monitoring of Agriculture, Price, and Procurement).
Download: April 2020 Current Affairs Pdf
Download: 2020 Monthly Current Affairs Pdf
Daily 10 Latest Current Affairs May 2020:
Govtjobcare Current Affairs
Govtjobcare Current Affairs:
Govtjobcare Current Affairs: It is very important for you to have the Govtjobcare Current Affairs to get success in UPSC, UGC, Net, WBCS, Rail, Police, RPF, NTPC, PSC, Group-d, SSC, or other examinations. Because Govtjobcare Current Affairs are asked a lot. If your current affairs are good, then in this you can solve more questions in a very short time and you can spend the remaining time in the questions of international current affairs, psc current affairs, speedy current affairs 2020, new current affairs 2020, online current affairs and other subjects and get good marks. For current affairs related questions, you can visit this website regularly because it is the best website for current affairs. Here we update the latest current affairs. Maximum questions related to current affairs are asked in the examinations. For this, you visit here regularly to prepare for the 10 Latest Current Affairs.