Current Affairs 10th August 2020: Govtjobcare Current Affairs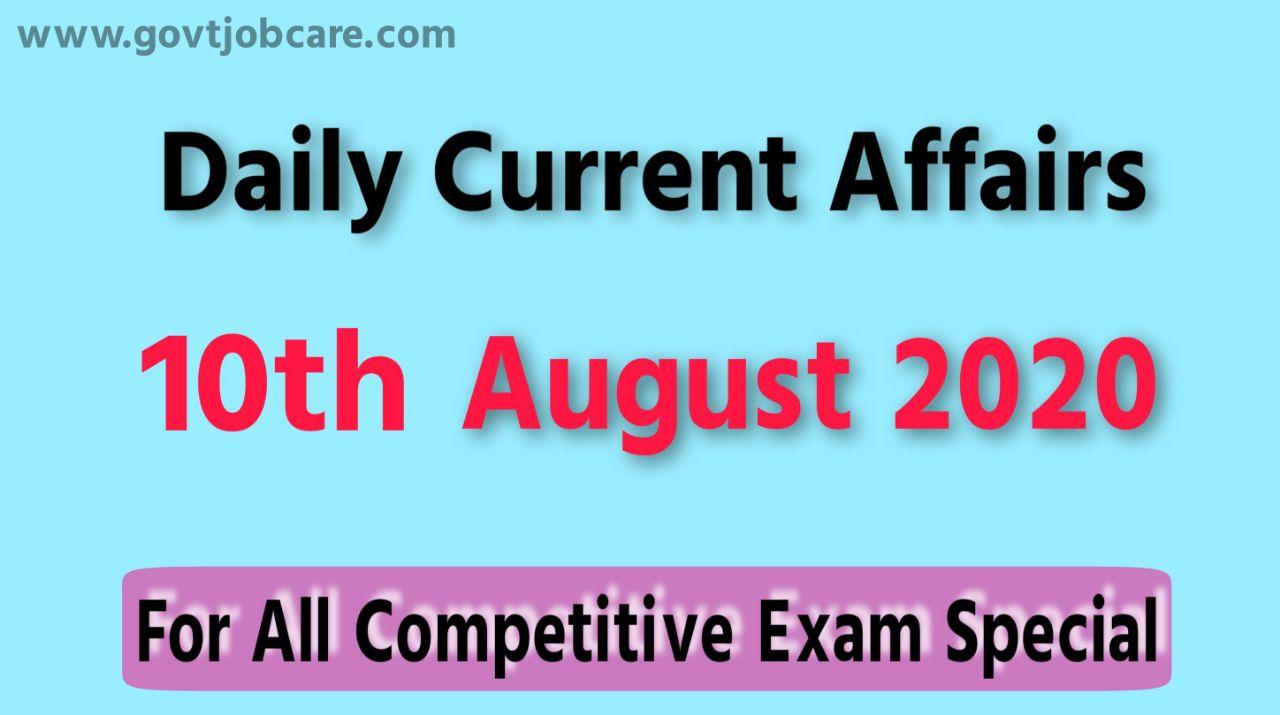 Current Affairs: 2020 Current Affairs Pdf is a very important subject for all examinations. Current Affairs is the section in which candidates or all students are able to solve more and more Weekly Current Affairs questions in a short time and can bring more marks or scores in the examinations. Online Current Affairs GK Question, you do not need to do special effort to memorize the questions of the online GK quiz test, but you need to read the questions carefully. August Current Affairs Pdf 2020 provided here, It is very important for you to have the strong general knowledge to get success in UPSC, UGC, NET, WBCS, RAIL, POLICE, RPF, TET, NTPC, PSC, GROUP-D, SSC, etc.
10th August 2020 Current Affairs
Every year 10 August "World Biofuel Day" is celebrated.

The theme of this year's World Biofuel Day was- Biofuels towards Atmanirbhar Bharat.

Self-reliant India Week launch is 10th August.

Andhra Pradesh, India recently signed an agreement with a US IT firm to further develop its own information technology.

Suresh Angadi recently inaugurated the "Malgudi Museum".

Rudrendra Tandon has recently been appointed Indian Ambassador to Afghanistan.

Recently Narendra Modi inaugurated Submarine Optical Fiber Cable (OFC) to connect Port Blair with Chennai.

Meghalaya has recently launched "Policy on Reservation of Seats for Women in Village Employment Councils (VECs)".

The first Silk Training and Production Center recently set up by the Khadi and Village Industries Commission (KVIC) is being set up in Arunachal Pradesh.

The Indian Army recently gifted a ventilator to the Nepal Army.

The Government of Chhattisgarh recently launched the "Indira Van Mitan Scheme".
Download: Current Affairs July 2020 Pdf
Download: Current Affairs 2020 Monthly Pdf
Daily Current Affairs August 2020:
Govtjobcare Current Affairs
Govtjobcare Current Affairs:
Govtjobcare Current Affairs: It is very important for you to have the Govtjobcare Current Affairs to get success in UPSC, UGC, Net, WBCS, Rail, Police, RPF, NTPC, PSC, Group-d, SSC, or other examinations. Because Govtjobcare Current Affairs are asked a lot. If your current affairs are good, then in this you can solve more questions in a very short time and you can spend the remaining time in the questions of international current affairs, psc current affairs, speedy current affairs 2020, new current affairs 2020, online current affairs and other subjects and get good marks. For current affairs related questions, you can visit this website regularly because it is the best website for current affairs. Here we update the latest current affairs. Maximum questions related to current affairs are asked in the examinations. For this, you visit here regularly to prepare for the best current affairs.