Latest Top Current Affairs 7th September 2020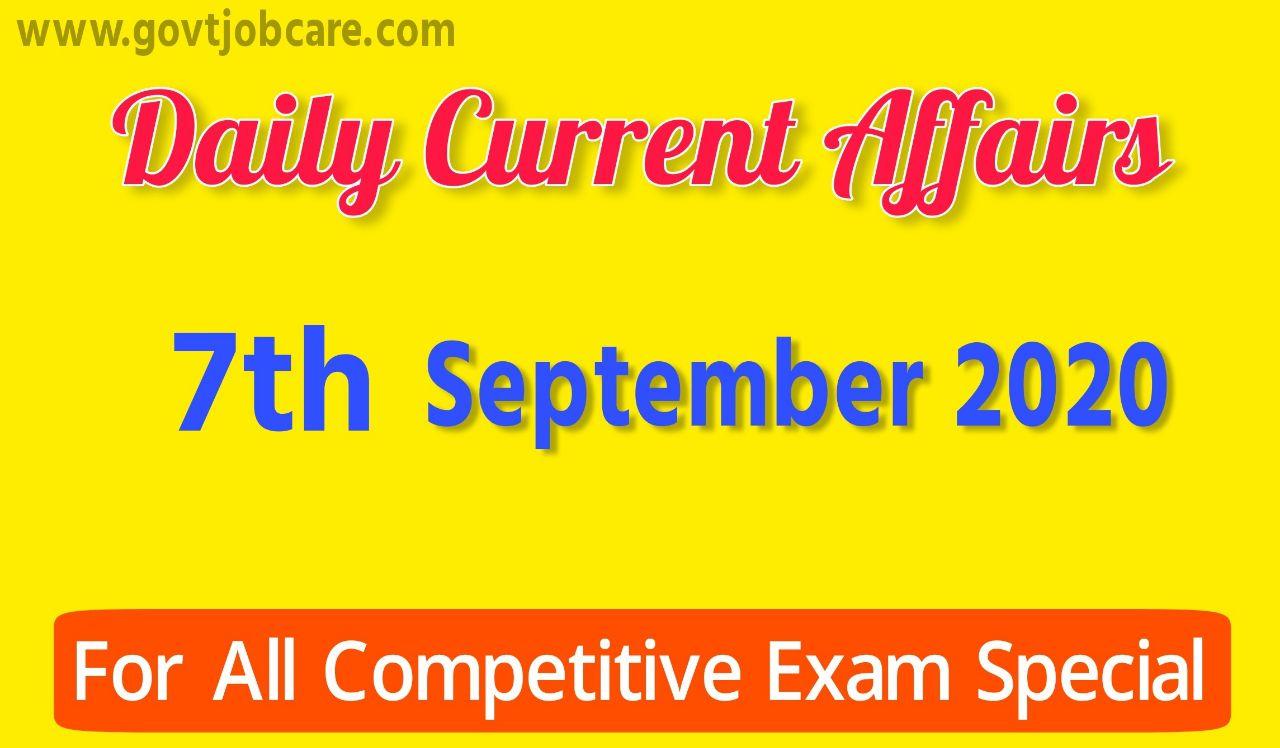 Latest Top Current Affairs: 2020 Current Affairs Pdf is a very important subject for all examinations. Latest Top Current Affairs is the section in which candidates or all students are able to solve more and more Weekly Current Affairs questions in a short time and can bring more marks or scores in the examinations. Online Latest Top Current Affairs GK Question, you do not need to do special effort to memorize the questions of the online GK quiz test, but you need to read the questions carefully. September Current Affairs Pdf 2020 provided here, It is very important for you to have the strong general knowledge to get success in UPSC, UGC, NET, WBCS, RAIL, POLICE, RPF, TET, NTPC, PSC, GROUP-D, SSC, etc.
7th September 2020 Latest Top Current Affairs
Akshay Kumar is going to launch multiplayer action game "FAU-G" recently.

Saudi Arabia recently chaired the G20 Foreign Ministers' Extraordinary Meeting.

The United Nations Environment Program recently launched a book entitled "The Little Book of Green Nudges".

Vinkesh Gulati was recently appointed President of the Federation of Automobile Dealers Associations (FADA).

Andhra Pradesh recently topped the list of "Ease of Doing Business".

Recently Mask ATM was inaugurated in Uttar Pradesh.

Recently "Pang Lhabso" festival was held in Sikkim.

Recently the Government of Assam passed a bill to protect the traditional place.

Donald Trump recently declared Wilmington a "World War II Heritage City."

Recently Andhra Pradesh's cabinet banned online gambling games like Poker and Rummy.
Download: Click Here Current Affairs 2020 Monthly Pdf
Daily Latest Top Current Affairs September 2020:
Govtjobcare Current Affairs
Govtjobcare Latest Top Current Affairs:
Govtjobcare Latest Top Current Affairs: It is very important for you to have the Govtjobcare Current Affairs to get success in UPSC, UGC, Net, WBCS, Rail, Police, RPF, NTPC, PSC, Group-d, SSC, or other examinations. Because Govtjobcare Current Affairs are asked a lot. If your current affairs are good, then in this you can solve more questions in a very short time and you can spend the remaining time in the questions of international current affairs, psc current affairs, speedy current affairs 2020, new current affairs 2020, online current affairs and other subjects and get good marks. For Latest Top Current Affairs related questions, you can visit this website regularly because it is the best website for current affairs. Here we update the latest current affairs. Maximum questions related to current affairs are asked in the examinations. For this, you visit here regularly to prepare for the best current affairs.