New Current Affairs Today: Govtjobcare Current Affairs Today 07th July 2020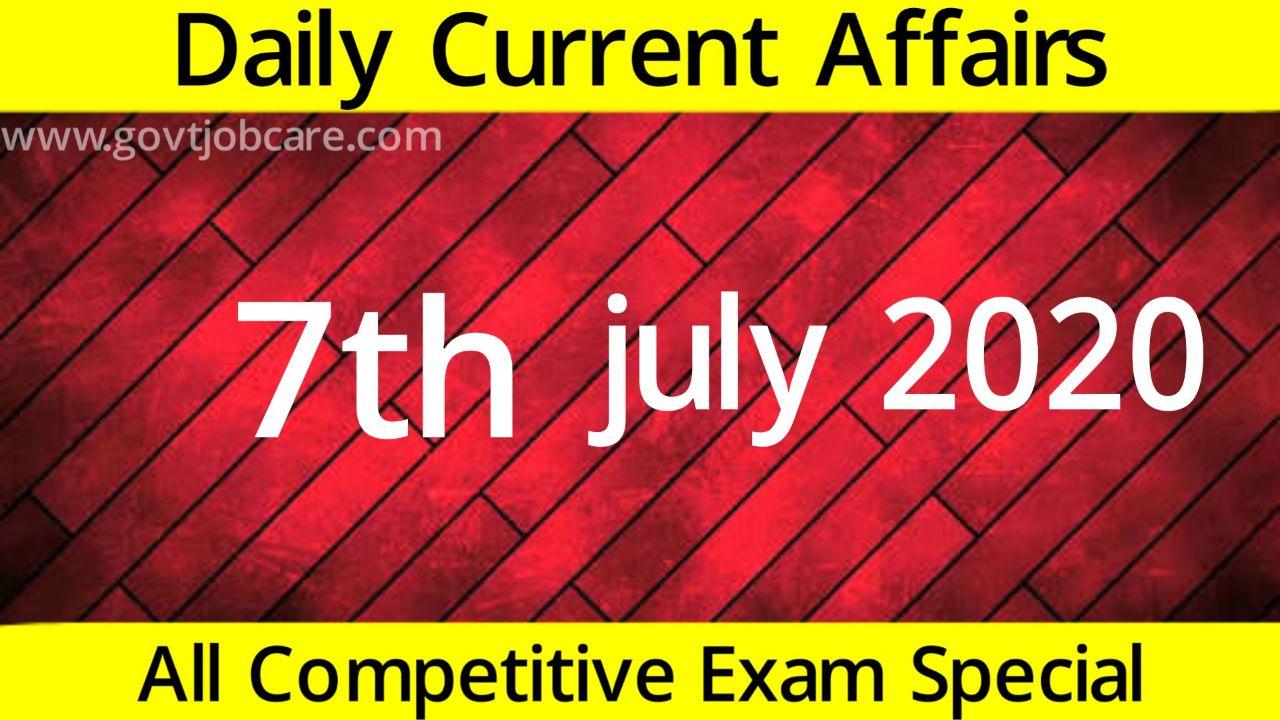 New Current Affairs Today: 2020 Current Affairs Pdf is a very important subject for all examinations. New Current Affairs Today is the section in which candidates or all students are able to solve more and more Weekly Current Affairs questions in a short time and can bring more marks or scores in the examinations. Online New Current Affairs Today GK Question, you do not need to do special effort to memorize the questions of the online GK quiz test, but you need to read the questions carefully. July Current Affairs Pdf 2020 provided here, It is very important for you to have the strong general knowledge to get success in UPSC, UGC, NET, WBCS, RAIL, POLICE, RPF, TET, NTPC, PSC, GROUP-D, SSC, etc.
7th July 2020 New Current Affairs Today
1. Every year 7th July "World Chocolate Day" is celebrated.
2. The Central Board of Secondary Education (CBSE) and Facebook are going to start a Comprehensive Training Program jointly.
3. India ranks 5th in the world in terms of foreign exchange reserves.
4. HDFC Bank recently launched Instant Car Loan under the name "ZipDrive".
5. Recently the Government of Uttar Pradesh launched the "Mission Vriksharopan-2020" Campaign.
6. V Suryanarayanan has been appointed Managing Director of Cholamandalam MS General Insurance.
7. Recently YES Bank launched a digital solution called "Loan in Seconds".
8. India was ranked 117th in the recently published "Sustainable Development Report 2020".
9. Freya Thakral, a 13-year-old student at British School New Delhi, received the Diana Award in 2020 for creating her "Recycler" app.
10. India's 66th Grandmaster is 23-year-old G.Akash.
11. Israel recently successfully launched the new spy satellite "Ofek-16" into space using the Shavit Rocket.
Download: June 2020 Current Affairs Pdf
Download: 2020 Monthly Current Affairs Pdf
Daily New Current Affairs Today July 2020:
Govtjobcare Current Affairs
Govtjobcare Current Affairs:
New Current Affairs Today: It is very important for you to have the New Current Affairs Today to get success in UPSC, UGC, Net, WBCS, Rail, Police, RPF, NTPC, PSC, Group-d, SSC, or other examinations. Because Govtjobcare Current Affairs are asked a lot. If your current affairs are good, then in this you can solve more questions in a very short time and you can spend the remaining time in the questions of international current affairs, psc current affairs, speedy current affairs 2020, new current affairs 2020, online current affairs and other subjects and get good marks. For current affairs related questions, you can visit this website regularly because it is the best website for current affairs. Here we update the latest current affairs. Maximum questions related to current affairs are asked in the examinations. For this, you visit here regularly to prepare for the New Current Affairs Today.