Recent Current Affairs: Govtjobcare Current Affairs 7th April 2020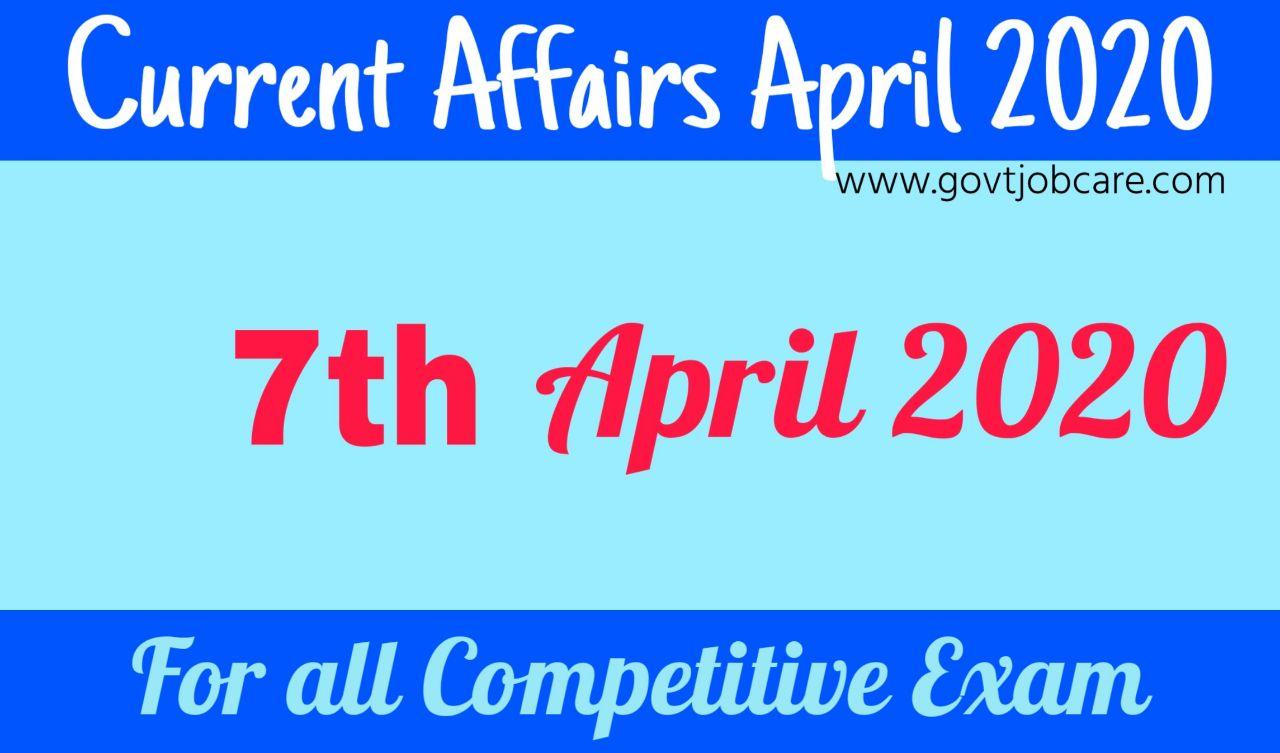 Recent Current Affairs: 2020 Current Affairs Pdf is a very important subject for all examinations. Recent Current Affairs is the section in which candidates or all students are able to solve more and more Weekly Current Affairs questions in a short time and can bring more marks or scores in the examinations. Online Current Affairs GK Question, you do not need to do special effort to memorize the questions of the online GK quiz test, but you need to read the questions carefully. Recent Current Affairs Pdf 2020 provided here, It is very important for you to have the strong general knowledge to get success in UPSC, UGC, NET, WBCS, RAIL, POLICE, RPF, TET, NTPC, PSC, GROUP-D, SSC, etc.
7th April 2020 Recent Current Affairs
1. Every year on 7th April, 'World Health Day' is celebrated.
2. This year's World Health Day theme was Support Nurses And Midwives.
3. Pravin Rao is appointed chairman of Nasscom.
4. PepsiCo's brand ambassador is Shafali Verma.
5. Gujarat government announces financial assistance of Rs 25 a day for every livestock under the Gaushala scheme.
6. Delhi Chief Minister Arvind Kejriwal launched '5T Plan' in the name of Testing, Tracing, Treatment, Teamwork, and Tracking to Prevent COVID-19.
7. Doorstep Banking Service launches State Bank of India (SBI).
8. Former New Zealand wicketkeeper batsman Jock Edwards has died.
9. NASA (National Aeronautics and Space Administration) will bring people to the moon in 2024 through the 'Artemis Program'.
10. Former Libyan Prime Minister Mahmoud Jibril succumbs to COVID-19.
11. The United States announced a $ 2.9 million grant to India.
Daily Recent Current Affairs April 2020:
Govtjobcare Current Affairs: It is very important for you to have the Govtjobcare Current Affairs to get success in UPSC, UGC, Net, WBCS, Rail, Police, RPF, NTPC, PSC, Group-d, SSC, or other examinations. Because Govtjobcare Current Affairs are asked a lot. If your current affairs are good, then in this you can solve more questions in a very short time and you can spend the remaining time in the questions of international current affairs, psc current affairs, speedy current affairs 2020, new current affairs 2020, online current affairs and other subjects and get good marks. For current affairs related questions, you can visit this website regularly because it is the best website for current affairs. Here we update the latest current affairs. Maximum questions related to current affairs are asked in the examinations. For this, you visit here regularly to prepare for the best current affairs.