Today Top Current Affairs 16th December 2020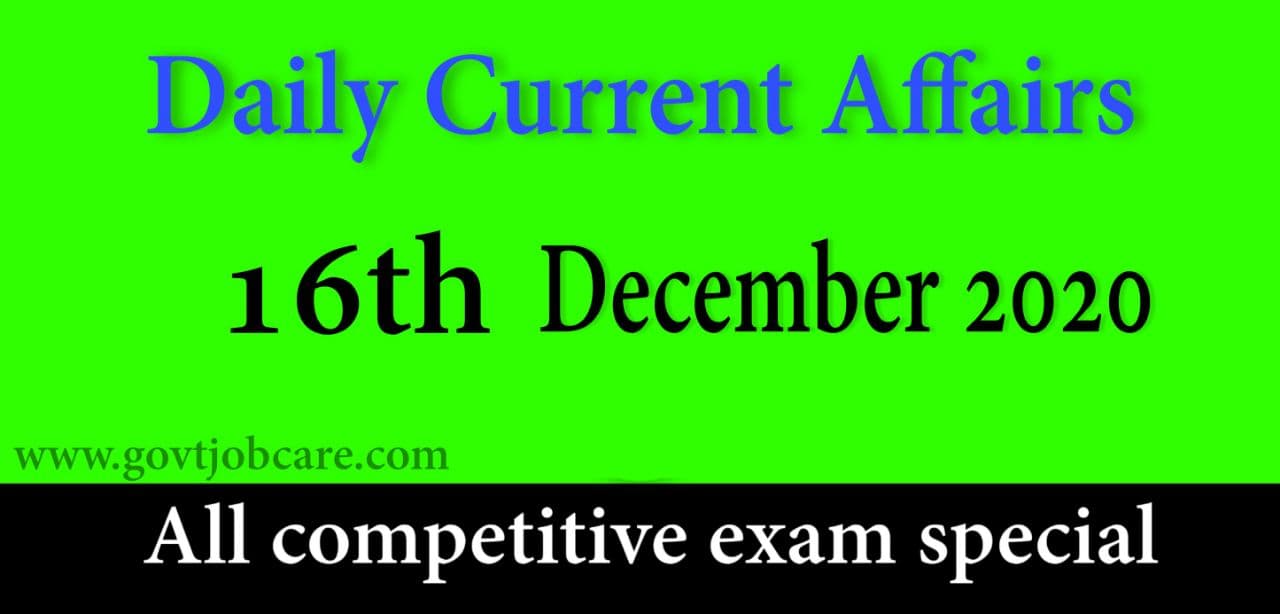 Today Top Current Affairs: Current Affairs is very important on a competitive Exam like WBCS, PSC, RRB, WBP, SSC, NTPC, Railway Group D, Police Constable, Clerkship, etc Exam. If you are an aspirant of Competitive Exam then Today Top Current Affairs is very important for you. Today we are sharing Today Top Current Affairs for All Job Exam. You must daily visit our Website Govtjobcare.com and get Today Top Current Affairs free in Pdf format.
16th December 2020 Today Top Current Affairs
Prime Minister Narendra Modi recently presided over the Climate Ambition Summit 2020.

Reserve Bank of India (RBI) recently re-appointed Uday Kotak as Managing Director (MD) of Kotak Mahindra Bank.

Recently the 9th Sustainable Mountain Development Summit was held in Dehradun, Uttarakhand.

NITI Aayog recently released a white paper titled Vision 2035: Public Health Surveillance in India.

South Africa's caretaker Prime Minister Ambrose Dlamini has recently died of coronary heart disease.

Recently FIH Men's Hockey World Cup 2023 will be held in Orissa.

Amish Tripathi recently published a book titled "Dharma: Decoding the Epics for a Meaningful Life".

The Gardenrich Shipbuilders and Engineers Limited (GRSE) in Kolkata recently launched the first ship 'Himgiri' under Project 17A.

Recently, India Post Payments Bank (IPPB) and Department of Post (DoP) jointly launched a digital application called DakPay.

Italian footballer Paolo Rossi recently passed away.
Also Download:
Current Affairs November 2020 Pdf – Click Here
Monthly Current Affairs 2020 Pdf – Click Here
Daily Today Top Current Affairs December 2020
Important of Govtjobcare Today Top Current Affairs
It is very important for you to have the Govtjobcare Current Affairs to get success in UPSC, UGC, Net, WBCS, Rail, Police, RPF, NTPC, PSC, Group-d, SSC, or other examinations. Because Govtjobcare Today Top Current Affairs are asked a lot. If your current affairs are good, then in this you can solve more questions in a very short time and you can spend the remaining time on the questions of international current affairs, psc current affairs, speedy current affairs 2020, new current affairs 2020, online Today Top Current Affairs and other subjects and get good marks. For current affairs related questions, you can visit this website regularly because it is the best website for current affairs. Here we update the latest current affairs. You can visit here regularly to prepare for the best current affairs.