Best Current Affairs Today: Govtjobcare Current Affairs 09th July 2020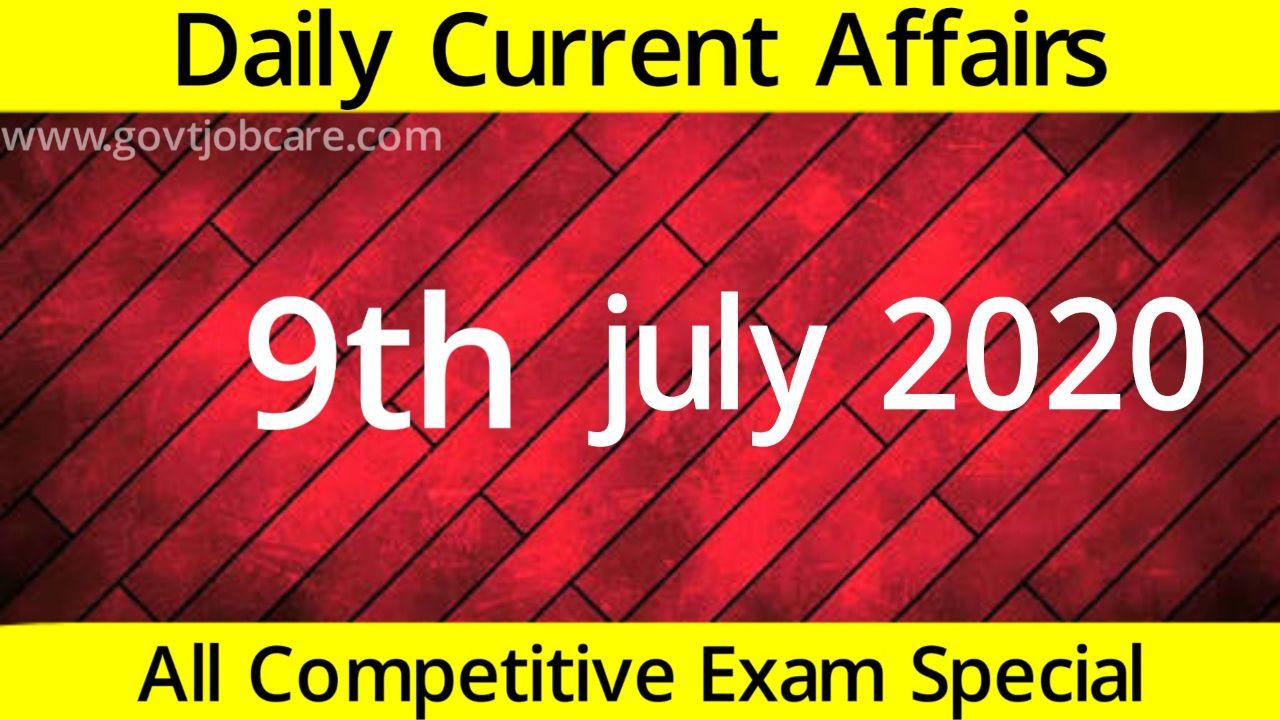 Best Current Affairs Today: 2020 Current Affairs Pdf is a very important subject for all examinations. Best Current Affairs Today is the section in which candidates or all students are able to solve more and more Weekly Current Affairs questions in a short time and can bring more marks or scores in the examinations. Online Best Current Affairs Today GK Question, you do not need to do special effort to memorize the questions of the online GK quiz test, but you need to read the questions carefully. July Current Affairs Pdf 2020 provided here, It is very important for you to have the strong general knowledge to get success in UPSC, UGC, NET, WBCS, RAIL, POLICE, RPF, TET, NTPC, PSC, GROUP-D, SSC, etc.
9th July 2020 Best Current Affairs Today
1. Recently Kiren Rijiju and Ramesh Pokhriyal launched the "Fit Hai To Hit India" program for school students.
2. The largest solar plant in Asia has been set up in the Indian state of Madhya Pradesh.
3. Under the "Namami Ganga Program", the World Bank sanctioned $400 million to India for the revitalization of the Ganges.
4. Indian cricketer Virat Kohli came under the "Self-contradictory" scanner.
5. Famous singer Sukhbir Singh has recently been appointed as the Brand Ambassador of Luxury Ride.
6. A rare species of lizard called "Sitana Dharvarensis" was recently discovered from North Karnataka.
7. Injet Srinivas was recently appointed as the Chairman of IFSACA.
8. Indian Railways Authority has recently set up a 1.7 MW solar power plant in Madhya Pradesh in collaboration with BHEL.
9. Madhya Pradesh Tourism Board has recently started promoting "Intzaar Aap Ka".
10. Recently Bollywood actor Hrithik Roshan and actress Alia Bhatt have been invited to join the Academy of Motion Picture Arts and Sciences.
Download: June 2020 Current Affairs Pdf
Download: 2020 Monthly Current Affairs Pdf
Daily Best Current Affairs Today July 2020:
Govtjobcare Current Affairs
Govtjobcare Current Affairs:
Govtjobcare Best Current Affairs Today: It is very important for you to have the Govtjobcare Best Current Affairs Today to get success in UPSC, UGC, Net, WBCS, Rail, Police, RPF, NTPC, PSC, Group-d, SSC, or other examinations. Because Govtjobcare Current Affairs are asked a lot. If your current affairs are good, then in this you can solve more questions in a very short time and you can spend the remaining time in the questions of international current affairs, psc current affairs, speedy current affairs 2020, new current affairs 2020, online current affairs and other subjects and get good marks. For current affairs related questions, you can visit this website regularly because it is the best website for current affairs. Here we update the latest current affairs. Maximum questions related to current affairs are asked in the examinations. For this, you visit here regularly to prepare for the best current affairs.