Current Affairs 25th November 2020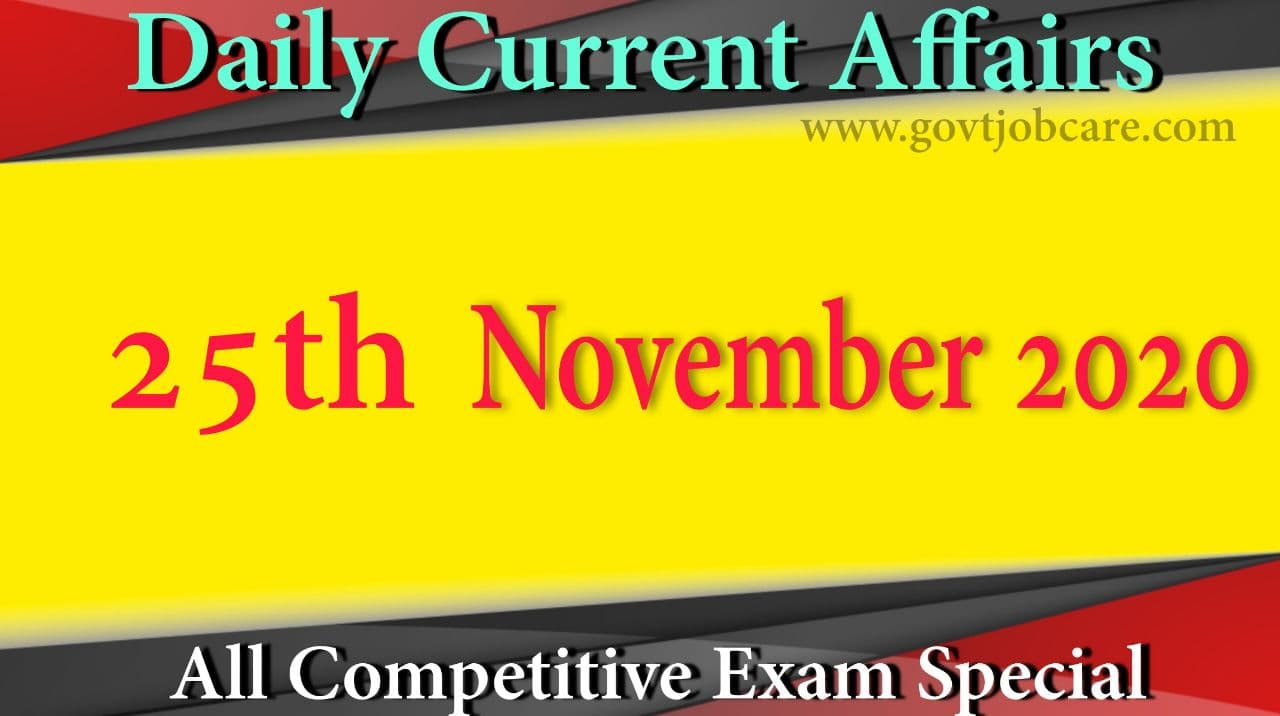 Current Affairs: Current Affairs is very important on a competitive Exam like WBCS, PSC, RRB, WBP, SSC, NTPC, Railway Group D, Police Constable, Clerkship, etc Exam. If you are an aspirant of Competitive Exam then Current Affairs is very important for you. Today we are sharing Current Affairs for All Job Exam. You must daily visit our Website Govtjobcare.com and get Current Affairs free in Pdf format.
25th November 2020 Current Affairs
Every year 25th November "International Day for the Elimination of Violence Against Women" is celebrated.

Recently the "Tungabhadra Pushkaralu" festival started in the state of Andhra Pradesh.

Recently the Government of Chhattisgarh launched a running clinic van called "Dai-Didi" for the convenience of women.

The Indian Army recently launched "Operation 500" against Pakistani terrorists in Jammu and Kashmir.

Greg Barclay was recently elected as the new Chairman of the ICC.

Recently, Russian tennis player Daniil Medvedev won the ATP Tour 2020.

Former Chief Minister of Assam Tarun Gogoi recently passed away.

Union Minister Ravi Shankar Prasad recently launched the international version of the "UMANG" mobile app.

Recently IIT Delhi has topped the "Global University Employability Ranking 2020" in India.

Rajkiran Rai has recently been appointed as the Chairman of the Indian Banks Association.
Also Download:
Current Affairs October 2020 Pdf – Click Here
Monthly Current Affairs 2020 Pdf – Click Here
Daily Current Affairs November 2020
Important of Govtjobcare Current Affairs
It is very important for you to have the Govtjobcare Current Affairs to get success in UPSC, UGC, Net, WBCS, Rail, Police, RPF, NTPC, PSC, Group-d, SSC, or other examinations. Because Govtjobcare Current Affairs are asked a lot. If your current affairs are good, then in this you can solve more questions in a very short time and you can spend the remaining time on the questions of international current affairs, psc current affairs, speedy current affairs 2020, new current affairs 2020, online current affairs and other subjects and get good marks. For current affairs related questions, you can visit this website regularly because it is the best website for current affairs. Here we update the latest current affairs. You can visit here regularly to prepare for the best current affairs.