Current Affairs 26th November 2020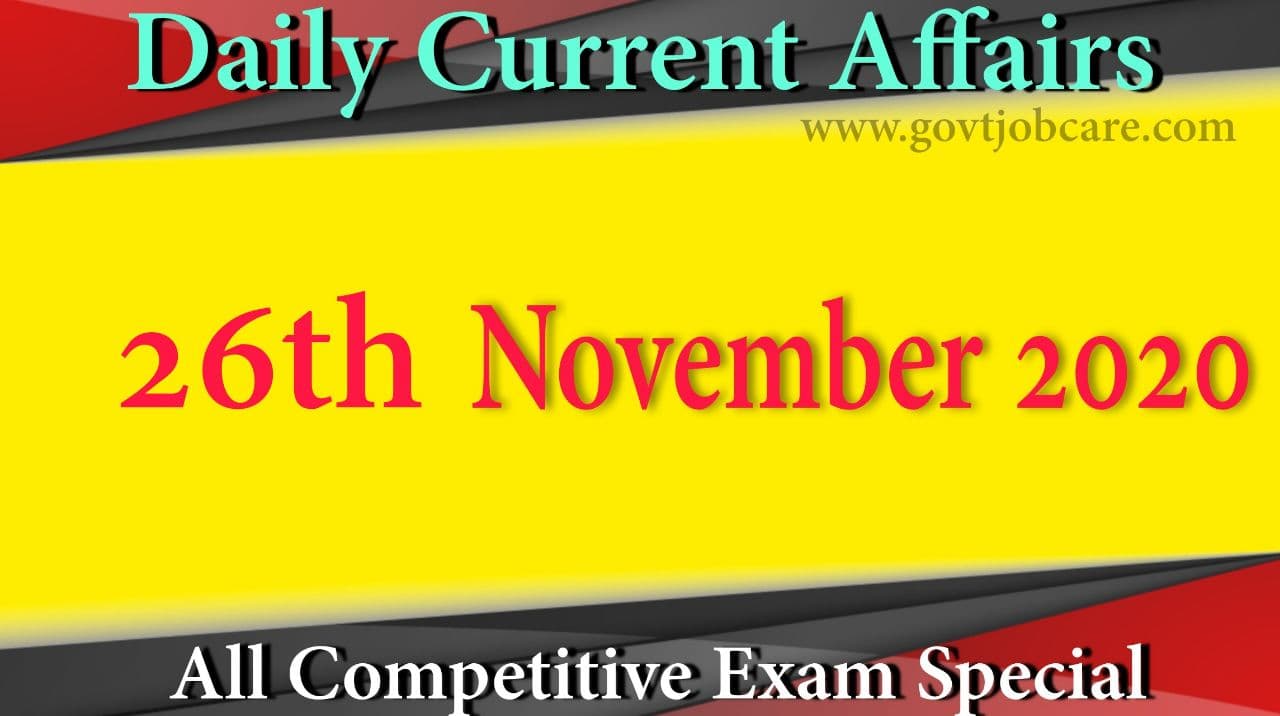 Current Affairs: Current Affairs is very important on a competitive Exam like WBCS, PSC, RRB, WBP, SSC, NTPC, Railway Group D, Police Constable, Clerkship, etc Exam. If you are an aspirant of Competitive Exam then Current Affairs is very important for you. Today we are sharing Current Affairs for All Job Exam. You must daily visit our Website Govtjobcare.com and get Current Affairs free in Pdf format.
26th November 2020 Current Affairs
Every year on 26th November, "Constitution Day" is celebrated in India.

London is at the top of the recently published "World best cities 2021" list.

Diego Maradona, the famous Argentine footballer, recently passed away at the age of 60.

Bollywood actor Akshay Kumar has recently been appointed as the Brand Ambassador of the "Pagarbook" app.

Israeli Prime Minister Benjamin Netanyahu was recently nominated for the Nobel Peace Prize 2021.

Recently India Post Payments Bank launched "Pradhan Mantri Jeevan Jyoti Bima Yojana".

India's recent film "Jallikattu" has been nominated for an Oscar this year.

Recently the Government of Uttarakhand launched "Him Suraksha Abhiyan".

ICICI Bank recently launched the first Cardless EMI facility in the country.

Recently the Tripura government launched the "Chief Minister Advanced Gadhan" project.
Also Download:
Current Affairs October 2020 Pdf – Click Here
Monthly Current Affairs 2020 Pdf – Click Here
Daily Current Affairs November 2020
Important of Govtjobcare Current Affairs
It is very important for you to have the Govtjobcare Current Affairs to get success in UPSC, UGC, Net, WBCS, Rail, Police, RPF, NTPC, PSC, Group-d, SSC, or other examinations. Because Govtjobcare Current Affairs are asked a lot. If your current affairs are good, then in this you can solve more questions in a very short time and you can spend the remaining time on the questions of international current affairs, psc current affairs, speedy current affairs 2020, new current affairs 2020, online current affairs and other subjects and get good marks. For current affairs related questions, you can visit this website regularly because it is the best website for current affairs. Here we update the latest current affairs. You can visit here regularly to prepare for the best current affairs.