Global Current Affairs: Govtjobcare Current Affairs 10th April 2020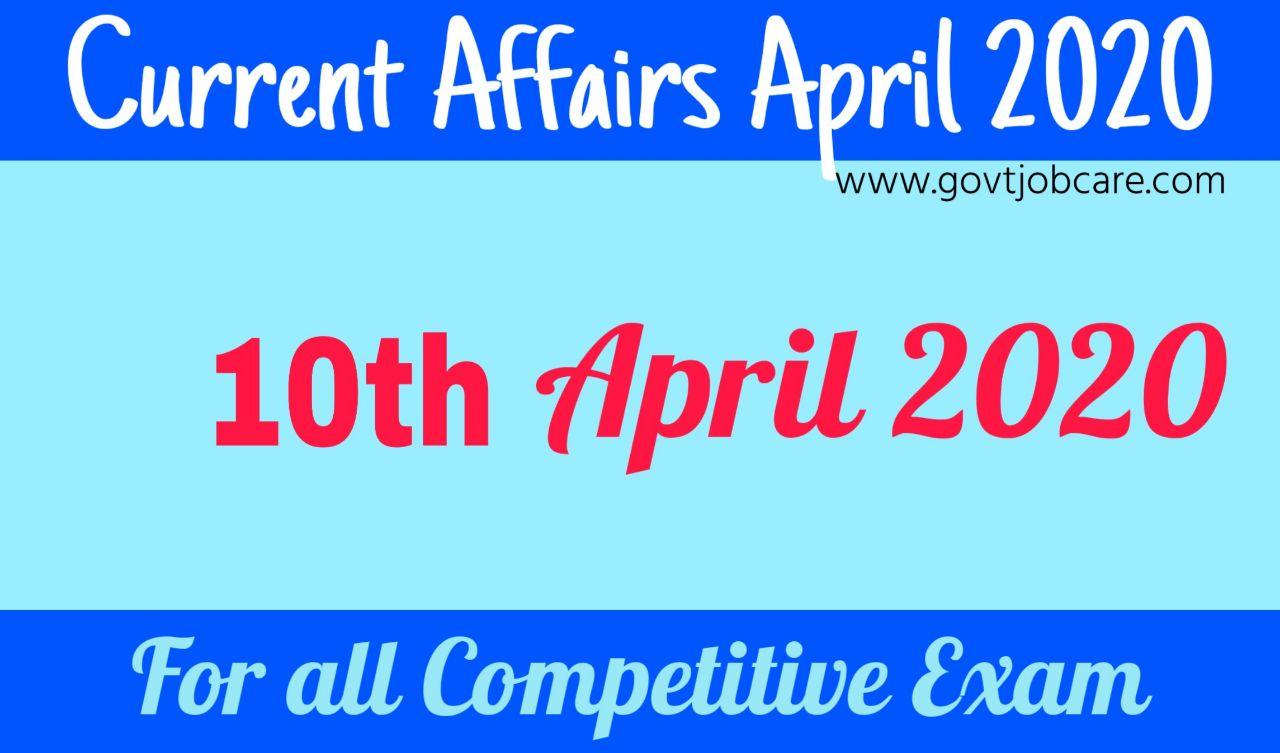 Global Current Affairs: 2020 Current Affairs Pdf is a very important subject for all examinations. Global Current Affairs is the section in which candidates or all students are able to solve more and more Weekly Global Current Affairs questions in a short time and can bring more marks or scores in the examinations. Online Current Affairs GK Question, you do not need to do special effort to memorize the questions of the online GK quiz test, but you need to read the questions carefully. April Current Affairs Pdf 2020 provided here, It is very important for you to have the strong general knowledge to get success in UPSC, UGC, NET, WBCS, RAIL, POLICE, RPF, TET, NTPC, PSC, GROUP-D, SSC, etc.
10th April 2020 Global Current Affairs
1. World Homeopathy Day is celebrated on April 10th every year.
2. This year's theme for World Homeopathy Day was 'Enhancing the Scope of Homoeopathy in Public Health'.
3. International Siblings' Day is celebrated on 10th April.
4. Delhi Chief Minister Arvind Kejriwal launched 'Operation SHIELD' to prevent the spread of COVID-19.
5. Arvind Krishna has been appointed CEO of the American Multinational Technology Company IBM (International Business Machines Corporation).
6. Amazon is developing a Coronavirus Testing Lab to test COVID-19 for their employees'.
7. ICMR (Indian Council of Medical Research) approved antibody testing in the Covid-19 hotspot area.
8. India launches Geofencing App.
9. Bengaluru was selected as the Best City for IT Professionals in Karnataka, India.
10. The Telangana government launches the first automatic "COVID-19 Monitoring System App".
Daily Global Current Affairs April 2020:
Govtjobcare Current Affairs: It is very important for you to have the Govtjobcare Current Affairs to get success in UPSC, UGC, Net, WBCS, Rail, Police, RPF, NTPC, PSC, Group-d, SSC, or other examinations. Because Govtjobcare Current Affairs are asked a lot. If your current affairs are good, then in this you can solve more questions in a very short time and you can spend the remaining time in the questions of international current affairs, psc current affairs, speedy current affairs 2020, new current affairs 2020, online current affairs and other subjects and get good marks. For current affairs related questions, you can visit this website regularly because it is the best website for current affairs. Here we update the latest current affairs. Maximum questions related to current affairs are asked in the examinations. For this, you visit here regularly to prepare for the best current affairs.