Current Affairs 28th November 2020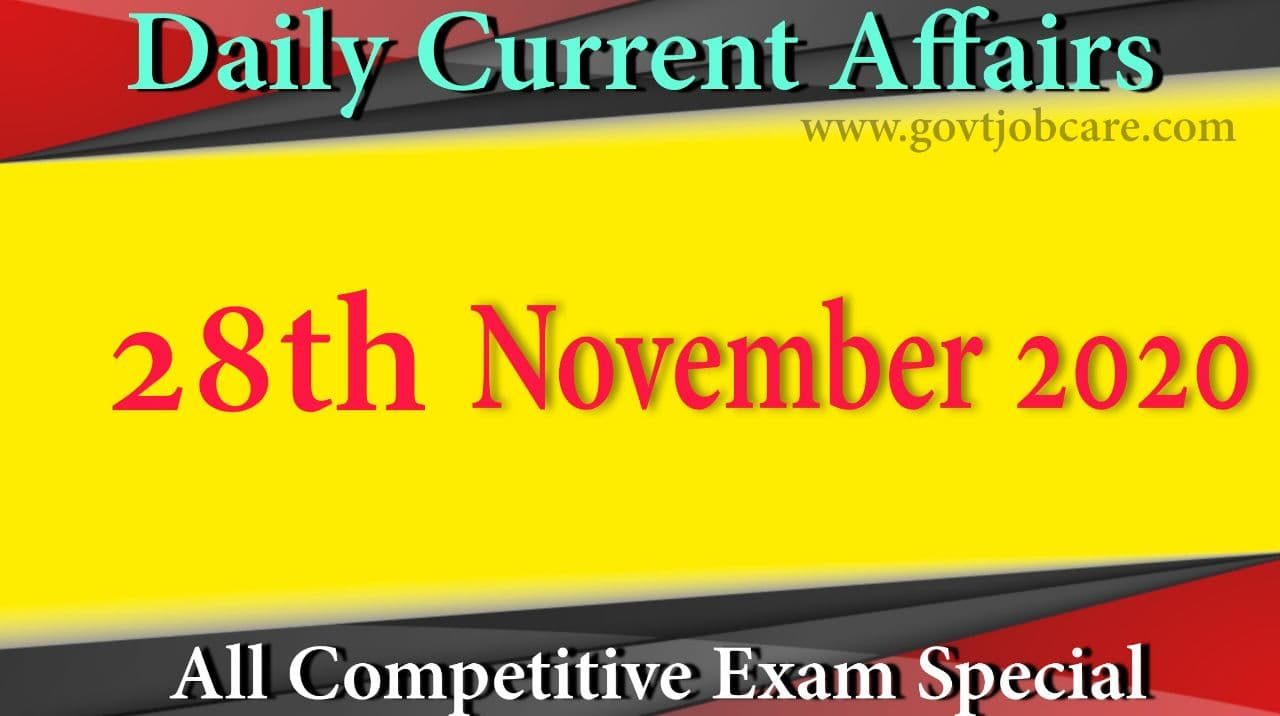 Current Affairs: Current Affairs is very important on a competitive Exam like WBCS, PSC, RRB, WBP, SSC, NTPC, Railway Group D, Police Constable, Clerkship, etc Exam. If you are an aspirant of Competitive Exam then Current Affairs is very important for you. Today we are sharing Current Affairs for All Job Exam. You must daily visit our Website Govtjobcare.com and get Current Affairs free in Pdf format.
28th November 2020 Current Affairs
"Mask bank" was recently launched in Delhi for free Max distribution.

Achyut Samanta was recently appointed as the President of the Volleyball Federation of India.

Former World Bank President James Wolfensohn recently passed away.

Lt. General Harpal Singh has recently been appointed as the Engineer in Chief of the Indian Army.

Recently the Government of West Bengal launched the "Karmai Dharma" scheme.

104th place in India in the recently published FIFA Ranking.

N.Ramesh has recently been appointed as the Deputy Managing Director of Exim Bank.

Recently the word "Quarantine" has been included as the Word of the Year in the Cambridge Dictionary.

Recently, Union Minister Prakash Javadekar launched the "India Climate Change Knowledge" portal.

The Government of Karnataka recently renamed the Haveri Railway Station as Mahadevappa Mailara Railway Station.
Also Download:
Current Affairs October 2020 Pdf – Click Here
Monthly Current Affairs 2020 Pdf – Click Here
Daily Current Affairs November 2020
Important of Govtjobcare Current Affairs
It is very important for you to have the Govtjobcare Current Affairs to get success in UPSC, UGC, Net, WBCS, Rail, Police, RPF, NTPC, PSC, Group-d, SSC, or other examinations. Because Govtjobcare Current Affairs are asked a lot. If your current affairs are good, then in this you can solve more questions in a very short time and you can spend the remaining time on the questions of international current affairs, psc current affairs, speedy current affairs 2020, new current affairs 2020, online current affairs and other subjects and get good marks. For current affairs related questions, you can visit this website regularly because it is the best website for current affairs. Here we update the latest current affairs. You can visit here regularly to prepare for the best current affairs.