New Top Current Affairs: Govtjobcare Top Current Affairs 24th May 2020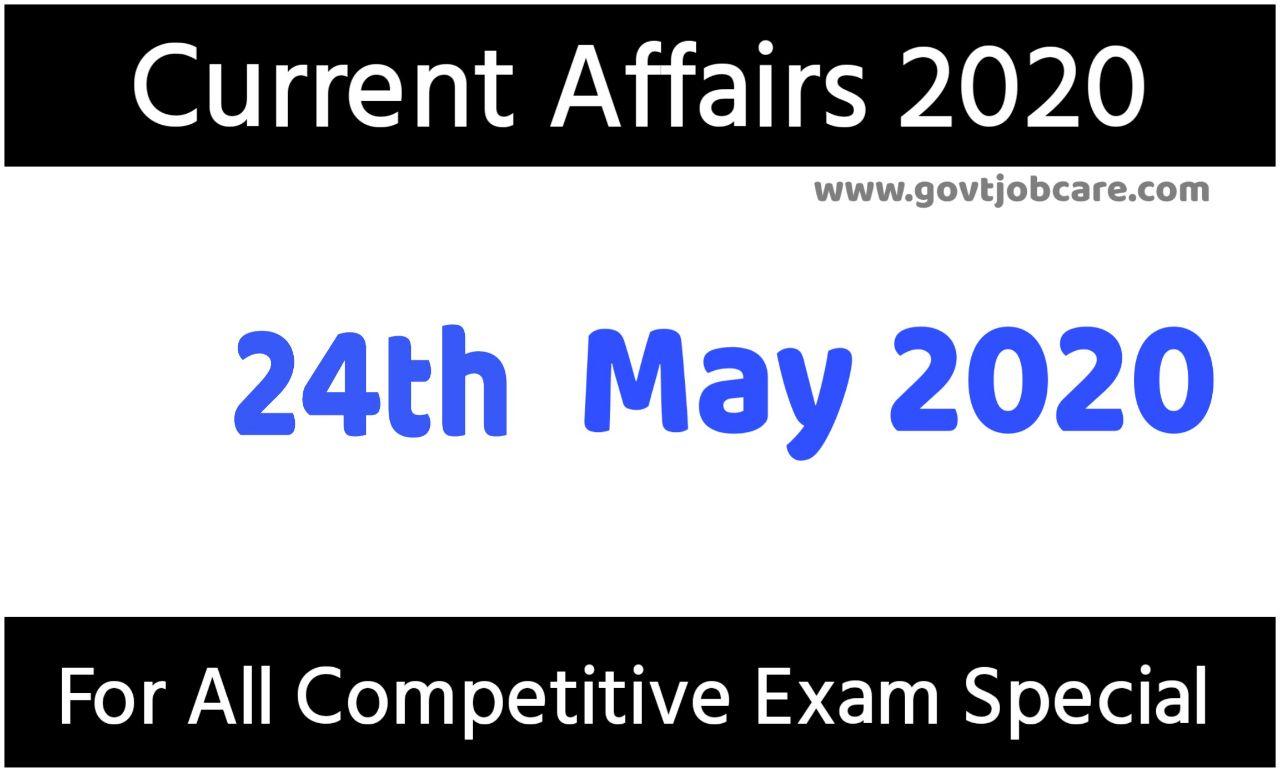 New Top Current Affairs: 2020 Current Affairs Pdf is a very important subject for all examinations. New Top Current Affairs is the section in which candidates or all students are able to solve more and more Weekly Current Affairs questions in a short time and can bring more marks or scores in the examinations. Online New Top Current Affairs GK Question, you do not need to do special effort to memorize the questions of the online GK quiz test, but you need to read the questions carefully. May Current Affairs Pdf 2020 provided here, It is very important for you to have the strong general knowledge to get success in UPSC, UGC, NET, WBCS, RAIL, POLICE, RPF, TET, NTPC, PSC, GROUP-D, SSC, etc.
24th May 2020 New Top Current Affairs
1. "Commonwealth Day" is celebrated on 24th May.
2. The theme of this year's "Commonwealth Day" was "Delivering a Common Future: Connecting, Innovating, Transforming".
3. SSC Chairman B R Sharma has been appointed as the Chairman of the Public Service Commission of Jammu and Kashmir.
4. Senior Citizen Care FD Scheme launched by HDFC Bank.
5. "Migration Commission" was formed by the Government of Uttar Pradesh.
6. "Rajiv Gandhi Kisan Nyay Yojna" launched by Chhattisgarh Government.
7. The World Bank is lending $500 million to Pakistan.
8. "Everybody Will Get Employment" Scheme launched by Madhya Pradesh Government.
9. Carmen Reinhart has been appointed Chief Economist and Vice President of the World Bank.
10. Jahnabi Phookan has been appointed President of the Federation of Indian Chambers of Commerce and Industry (FICCI).
Download: April 2020 Current Affairs Pdf
Download: 2020 Monthly Current Affairs Pdf
Daily New Top Current Affairs May 2020:
Govtjobcare Current Affairs
Govtjobcare Current Affairs:
Govtjobcare Current Affairs: It is very important for you to have the New Top Current Affairs to get success in UPSC, UGC, Net, WBCS, Rail, Police, RPF, NTPC, PSC, Group-d, SSC, or other examinations. Because Govtjobcare Current Affairs are asked a lot. If your current affairs are good, then in this you can solve more questions in a very short time and you can spend the remaining time in the questions of international current affairs, psc current affairs, speedy current affairs 2020, new current affairs 2020, online current affairs and other subjects and get good marks. For current affairs related questions, you can visit this website regularly because it is the best website for current affairs. Here we update the latest current affairs. Maximum questions related to current affairs are asked in the examinations. For this, you visit here regularly to prepare for the New Top Current Affairs.