Top Fast Current Affairs 13th September 2020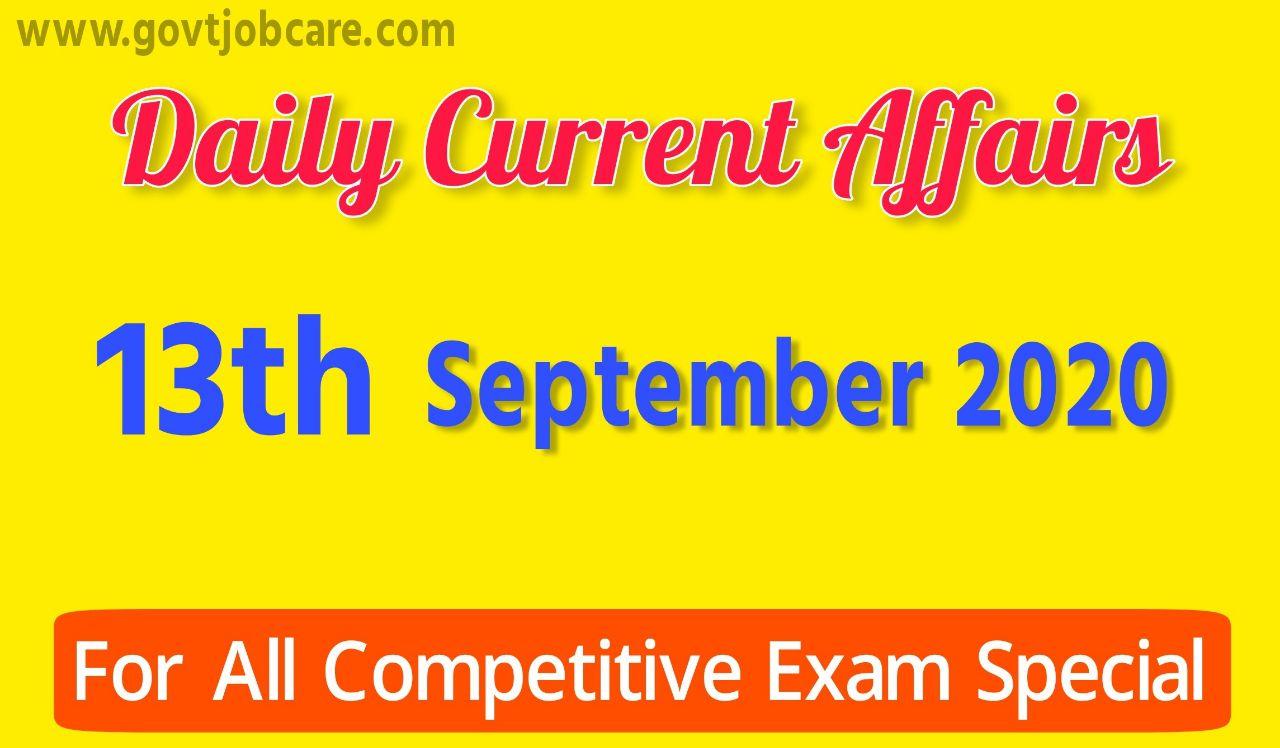 Top Fast Current Affairs: 2020 Current Affairs Pdf is a very important subject for all examinations. Top Fast Current Affairs is the section in which candidates or all students are able to solve more and more Weekly Current Affairs questions in a short time and can bring more marks or scores in the examinations. Online Top Fast Current Affairs GK Question, you do not need to do a special effort to memorize the questions of the online GK quiz test, but you need to read the questions carefully. September Current Affairs Pdf 2020 provided here, It is very important for you to have the strong general knowledge to get success in UPSC, UGC, NET, WBCS, RAIL, POLICE, RPF, TET, NTPC, PSC, GROUP-D, SSC, etc.
13th September 2020 Top Fast Current Affairs
The Meghalaya government recently launched a Rs.200 crore "Piggery Mission".

India Post recently launched the "5 Star Villages Scheme" in all rural areas of the country.

The First Integrated Air Ambulance service was recently launched by Karnataka Chief Minister B.S. Yediyurappa.

Recently Prime Minister Narendra Modi launched Pradhan Mantri Matsya Sampada Yojana.

The West Bengal Government's "Sabuj Saathi" project recently received the United Nations World Summit on the Information Society Award 2020.

India recently ranked 105th in the Global Economic Freedom Index 2020.

Chetan Bhagat recently wrote a book titled "Breaking The Cocoon @ 40".

Recently Tamil Nadu Chief Minister K Palaniswami launched hmis.tn.gov.in/eye-donor/portal for eye donation.

Poonam Khatri, an Indian female police officer, recently won the title of "Wushu World Champion".

R Masakui was recently appointed the new High Commissioner of India to Jamaica.
Download: Click Here Current Affairs 2020 Monthly Pdf
Daily Top Fast Current Affairs September 2020:
Govtjobcare Current Affairs
Govtjobcare Top Fast Current Affairs:
Govtjobcare Top Fast Current Affairs: It is very important for you to have the Govtjobcare Top Fast Current Affairs to get success in UPSC, UGC, Net, WBCS, Rail, Police, RPF, NTPC, PSC, Group-d, SSC, or other examinations. Because Govtjobcare Current Affairs are asked a lot. If your current affairs are good, then in this you can solve more questions in a very short time and you can spend the remaining time in the questions of international current affairs, psc current affairs, speedy current affairs 2020, new current affairs 2020, online current affairs and other subjects and get good marks. For current affairs related questions, you can visit this website regularly because it is the best website for Top Fast Current Affairs. Here we update the latest current affairs. Maximum questions related to current affairs are asked in the examinations. For this, you visit here regularly to prepare for the best current affairs.