Top Fast Current Affairs 30th October 2020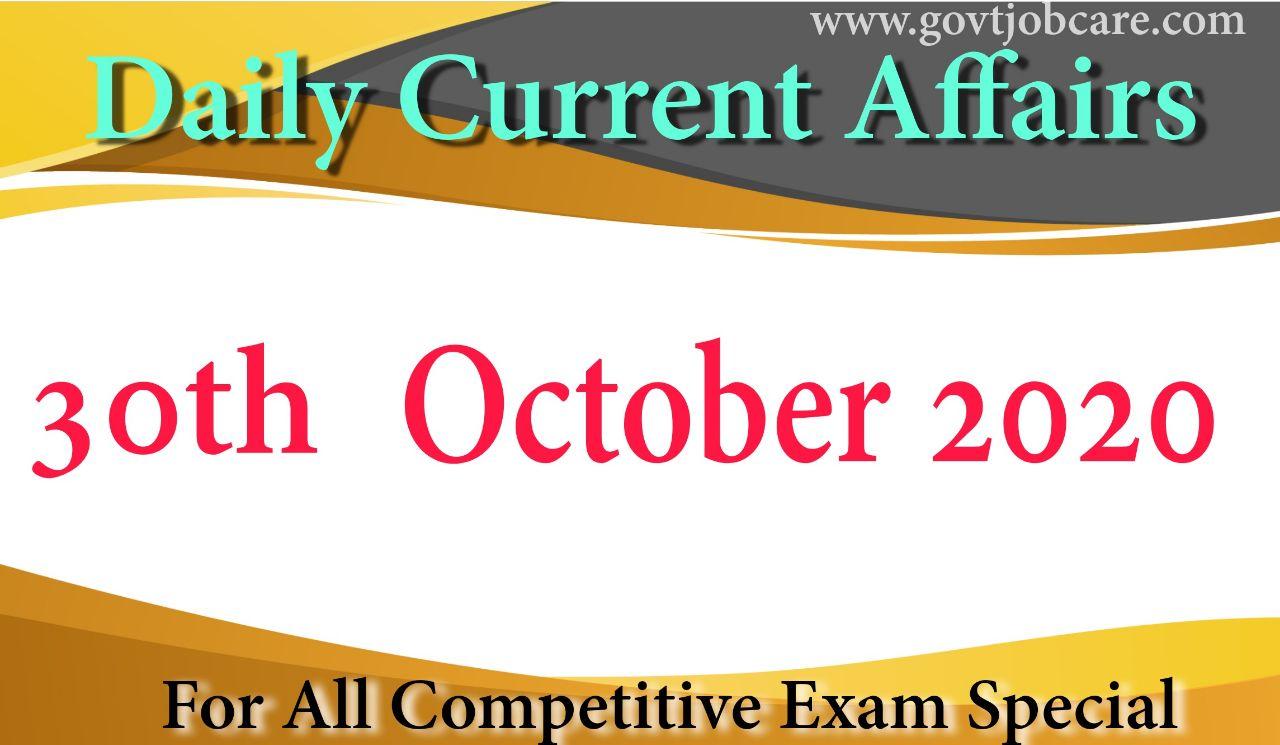 Top Fast Current Affairs: 2020 Current Affairs Pdf is a very important subject for all examinations. Top Fast Current Affairs is the section in which candidates or all students are able to solve more and more Weekly Current Affairs questions in a short time and can bring more marks or scores in the examinations. Top Fast Current Affairs GK Question, you do not need to do special effort to memorize the questions of the online GK quiz test, but you need to read the questions carefully. October Current Affairs Pdf 2020 provided here, It is very important for you to have the strong general knowledge to get success in UPSC, UGC, NET, WBCS, RAIL, POLICE, RPF, TET, NTPC, PSC, GROUP-D, SSC, etc.
30th October 2020 Top Fast Current Affairs
Luis Arce was recently elected President of Bolivia.

India is currently ranked 131st in the Global Mobile Internet Speed ​​Ranking 2020.

Recently Kerala Government has fixed Minimum Support Price (MSP) on vegetables and fruits.

Recently, Prime Minister Narendra Modi inaugurated the 4th India Energy Forum through Video Conferencing.

Recently, Mandi district of Himachal Pradesh has won the first place in the Prime Minister's Rural Road Scheme.

Union Minister Prahlad Singh Patel recently launched the "Life In Miniatur" Project.

Suman Dubey recently wrote a novel titled "The Fixer".

India recently took over as Chairman of the Steering Committee of the International Labor Organization (ILO) after a long 35 years.

Recently launched "Young Advocates Welfare Fund" in Tamil Nadu.

Recently the President of Brazil decided not to buy the Covid-19 vaccine made in China. 11. Sashidhar Jagdishan has recently been appointed Managing Director and CEO of HDFC Bank.
Download: Click Here Current Affairs 2020 Monthly Pdf
Daily Top Fast Current Affairs October 2020:
Govtjobcare Current Affairs
Govtjobcare Top Fast Current Affairs:
Govtjobcare Top Fast Current Affairs: It is very important for you to have the Govtjobcare Top Fast Current Affairs to get success in UPSC, UGC, Net, WBCS, Rail, Police, RPF, NTPC, PSC, Group-d, SSC, or other examinations. Because Govtjobcare Current Affairs are asked a lot. If your current affairs are good, then in this you can solve more questions in a very short time and you can spend the remaining time in the questions of international current affairs, psc current affairs, speedy current affairs 2020, new current affairs 2020, online current affairs and other subjects and get good marks. For current affairs related questions, you can visit this website regularly because it is the best website for Top Fast Current Affairs. Here we update the latest current affairs. Maximum questions related to current affairs are asked in the examinations. For this, you visit here regularly to prepare for the best current affairs.