Basic Current Affairs: Govtjobcare Current Affairs 16th April 2020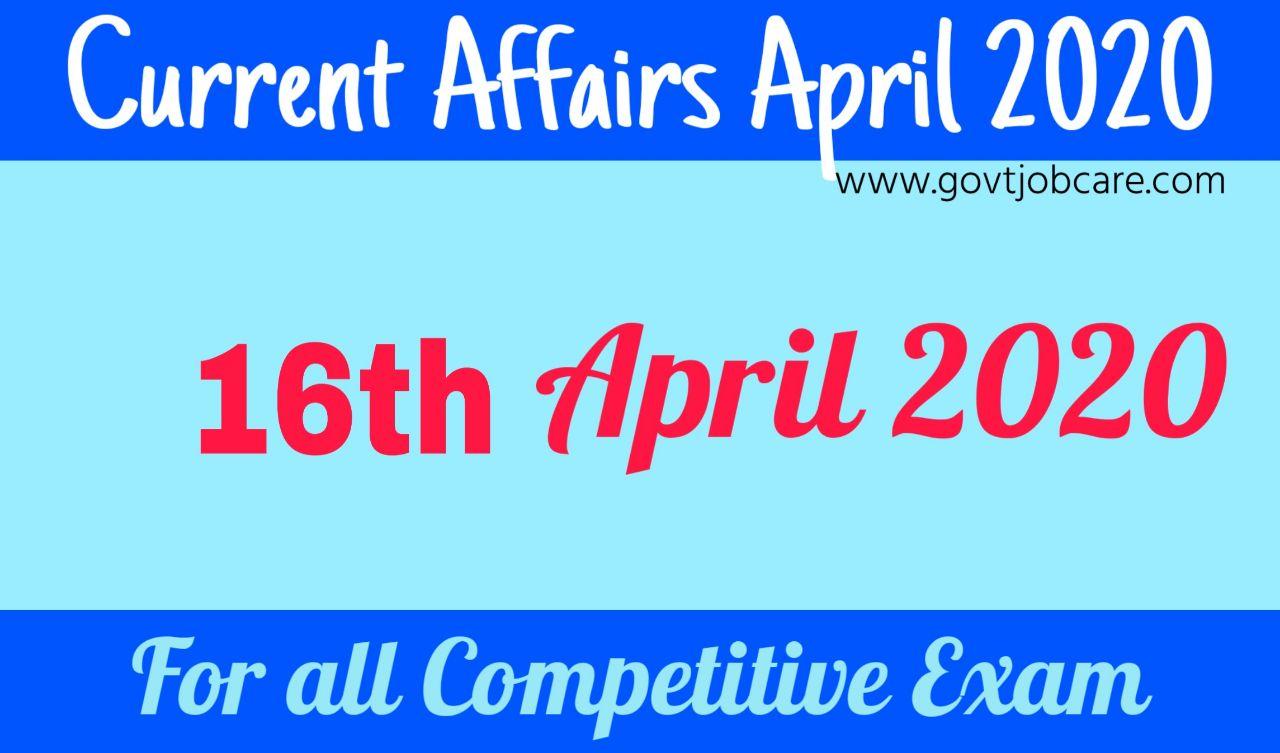 Basic Current Affairs: 2020 Current Affairs Pdf is a very important subject for all examinations. Basic Current Affairs is the section in which candidates or all students are able to solve more and more Weekly Current Affairs questions in a short time and can bring more marks or scores in the examinations. Online Current Affairs GK Question, you do not need to do special effort to memorize the questions of the online GK quiz test, but you need to read the questions carefully. April Basic Current Affairs Pdf 2020 provided here, It is very important for you to have the strong general knowledge to get success in UPSC, UGC, NET, WBCS, RAIL, POLICE, RPF, TET, NTPC, PSC, GROUP-D, SSC, etc.
16th April 2020 Basic Current Affairs
1. Every year on the 16th April "World Voice Day" is observed.
2. The fastest downloaded app in the world is 'Aarogya Setu'; the app has downloaded 50 million downloads in 13 days.
3. Sara Ali Khan has been appointed Brand Ambassador of JBL.
4. Rohit Sharma has been appointed as Brand Ambassador for 'CricKingdom'.
5. Uttar Pradesh Government launches two programs called 'Annapurna' and 'Supply Mitra' to provide food to the poor.
6. The first Remote Health Monitoring System was launched in Rishikesh, Uttarakhand, India.
7. The legendary motor racing driver, Sir Stirling Moss, died.
8. The Tamil Nadu government launches the COVID-19 Quarantine Monitor app.
9. Ajay Mahajan has been appointed Managing Director and CEO of 'CARE Ratings'.
10. The Andhra Pradesh government has launched two portals called "YSR Nirman" and "COVID-19" to fight Covid-19.
Daily Basic Current Affairs April 2020:
Govtjobcare Current Affairs: It is very important for you to have the Basic Current Affairs to get success in UPSC, UGC, Net, WBCS, Rail, Police, RPF, NTPC, PSC, Group-d, SSC, or other examinations. Because Govtjobcare Current Affairs are asked a lot. If your current affairs are good, then in this you can solve more questions in a very short time and you can spend the remaining time in the questions of international current affairs, psc current affairs, speedy current affairs 2020, new current affairs 2020, online current affairs and other subjects and get good marks. For current affairs related questions, you can visit this website regularly because it is the best website for current affairs. Here we update the latest current affairs. Maximum questions related to current affairs are asked in the examinations. For this, you visit here regularly to prepare for the best current affairs.