Fresh Current Affairs: 26th May 2020 Current Affairs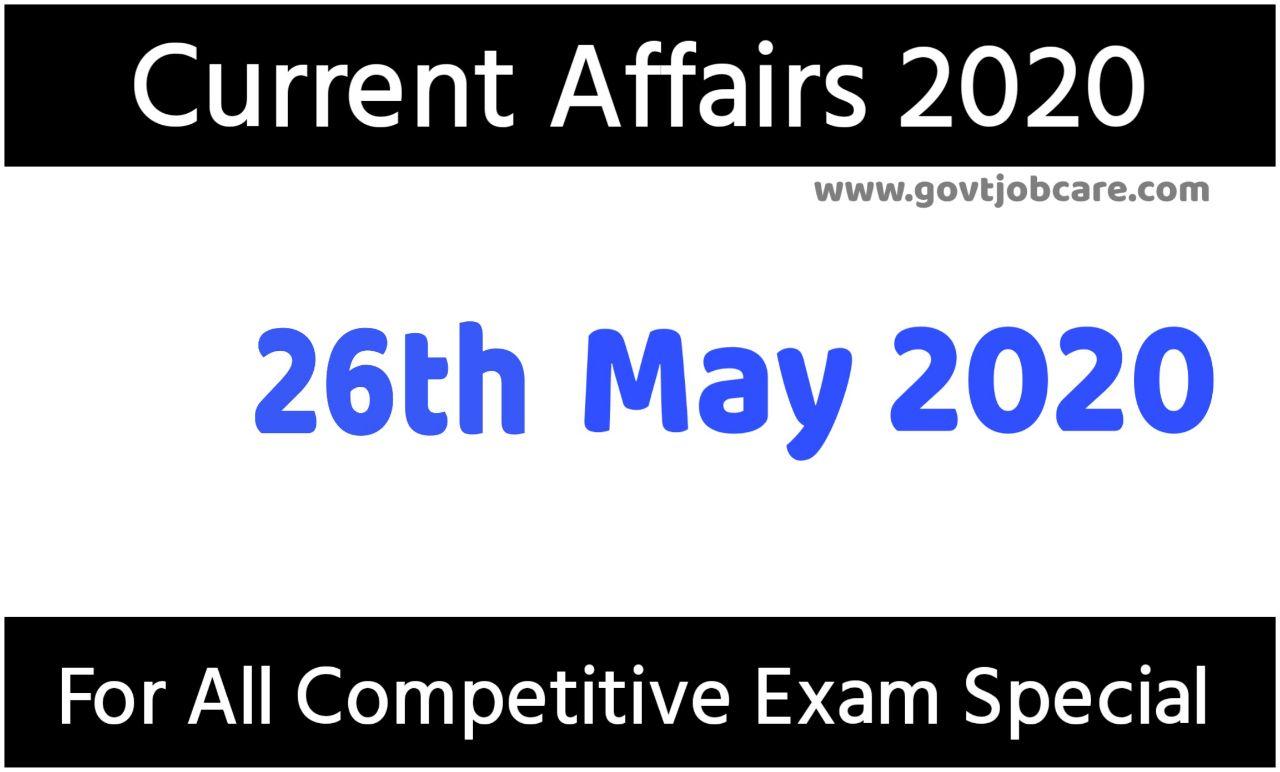 Fresh Current Affairs: 2020 Current Affairs Pdf is a very important subject for all examinations. Fresh Current Affairs is the section in which candidates or all students are able to solve more and more Weekly Current Affairs questions in a short time and can bring more marks or scores in the examinations. Online Fresh Current Affairs GK Question, you do not need to do special effort to memorize the questions of the online GK quiz test, but you need to read the questions carefully. May Current Affairs Pdf 2020 provided here, It is very important for you to have the strong general knowledge to get success in UPSC, UGC, NET, WBCS, RAIL, POLICE, RPF, TET, NTPC, PSC, GROUP-D, SSC, etc.
26th May 2020 Fresh Current Affairs
1. "National Paper Airplane Day" is celebrated on 26th May every year.
2. "UP Start-up Fund" launched by Uttar Pradesh Chief Minister Yogi Adityanath.
3. China successfully tests unmanned helicopter drones "AR500C".
4. Oil and Natural Gas Corporation (ONGC) has signed an agreement with NTPC for Renewable Energy projects.
5. Recently Orissa government has given permission to farmers for Contract Farming.
6. Rajasthan government has introduced free bus service for soldiers.
7. Indian Army Officer Major Suman Gawani receives the United Nations Military Gender Advocate of the Year Award.
8. Rajiv Joshi won the "Inventor of the Year" 2020 award.
9. Oxygen Pipeline System has been announced to be installed in the sub-divisional hospitals of Bihar.
10. Justice AK Sikri inaugurated the Indian Dispute Resolution Center (IDRC).
Download: April 2020 Current Affairs Pdf
Download: 2020 Monthly Current Affairs Pdf
Daily Fresh Current Affairs May 2020:
Govtjobcare Current Affairs
Govtjobcare Current Affairs:
Govtjobcare Current Affairs: It is very important for you to have the Fresh Current Affairs to get success in UPSC, UGC, Net, WBCS, Rail, Police, RPF, NTPC, PSC, Group-d, SSC, or other examinations. Because Govtjobcare Current Affairs are asked a lot. If your current affairs are good, then in this you can solve more questions in a very short time and you can spend the remaining time in the questions of international current affairs, psc current affairs, speedy current affairs 2020, new current affairs 2020, online current affairs and other subjects and get good marks. For current affairs related questions, you can visit this website regularly because it is the best website for current affairs. Here we update the latest current affairs. Maximum questions related to current affairs are asked in the examinations. For this, you visit here regularly to prepare for the Fresh Current Affairs.