Current Affairs 2020: Gksolves Current Affair 18th April 2020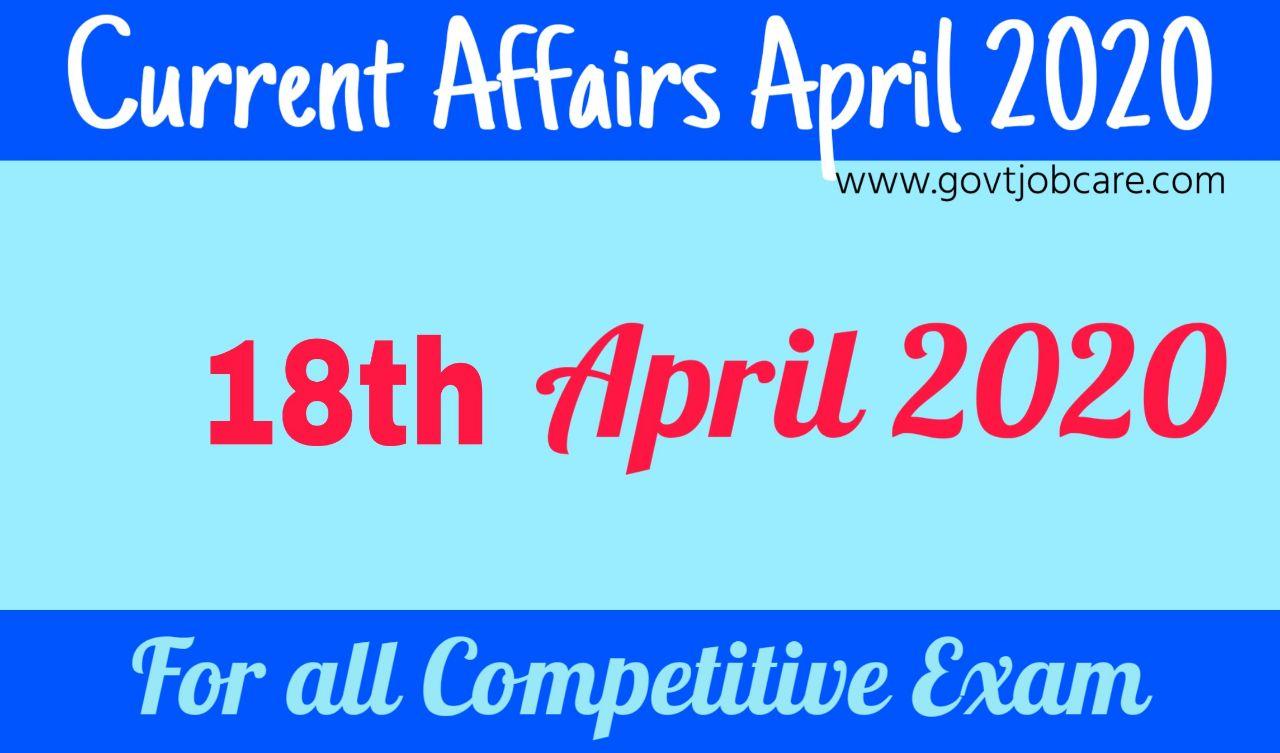 Current Affairs 2020: 2020 Current Affairs Pdf is a very important subject for all examinations. Current Affairs 2020 is the section in which candidates or all students are able to solve more and more Weekly Current Affairs 2020 questions in a short time and can bring more marks or scores in the examinations. Online Current Affairs GK Question, you do not need to do special effort to memorize the questions of the online GK quiz test, but you need to read the questions carefully. April Current Affairs Pdf 2020 provided here, It is very important for you to have the strong general knowledge to get success in UPSC, UGC, NET, WBCS, RAIL, POLICE, RPF, TET, NTPC, PSC, GROUP-D, SSC, etc.
18th April Current Affairs 2020
1. 18th April "World Heritage Day" is observed every year.
2. This year's theme for "World Heritage Day" was "Shared Culture, Shared Heritage and Shared Responsibility."
3. Delhi government launches the "Assess Koro Na" mobile app.
4. The government of Andhra Pradesh launches YSR Nirman and COVID-19 Portal to fight against COVID-19.
5. Vineet Arora is appointed MD and CEO of Paytm General Insurance Limited.
6. Sharath Kamal is named as India's Highest-Ranked Table Tennis Player.
8. 44th UNESCO World Heritage Committee Session 2020 to be held in China.
9. "Feifei" is the mascot of the Asian Para Games held in Hangzhou, China in 2022.
10. P K Purwar has been appointed Chairman and Managing Director (CMD) of Mahanagar Telephone Nigam Limited (MTNL).
Daily Current Affairs April 2020:
Govtjobcare Current Affairs: It is very important for you to have the Current Affairs 2020 to get success in UPSC, UGC, Net, WBCS, Rail, Police, RPF, NTPC, PSC, Group-d, SSC, or other examinations. Because Govtjobcare Current Affairs are asked a lot. If your current affairs are good, then in this you can solve more questions in a very short time and you can spend the remaining time in the questions of international current affairs, psc current affairs, speedy current affairs 2020, new current affairs 2020, online current affairs and other subjects and get good marks. For current affairs related questions, you can visit this website regularly because it is the best website for current affairs. Here we update the latest current affairs. Maximum questions related to current affairs are asked in the examinations. For this, you visit here regularly to prepare for the best current affairs.