Exclusive Top Current Affairs: Govtjobcare Fresh Current Affairs 19th July 2020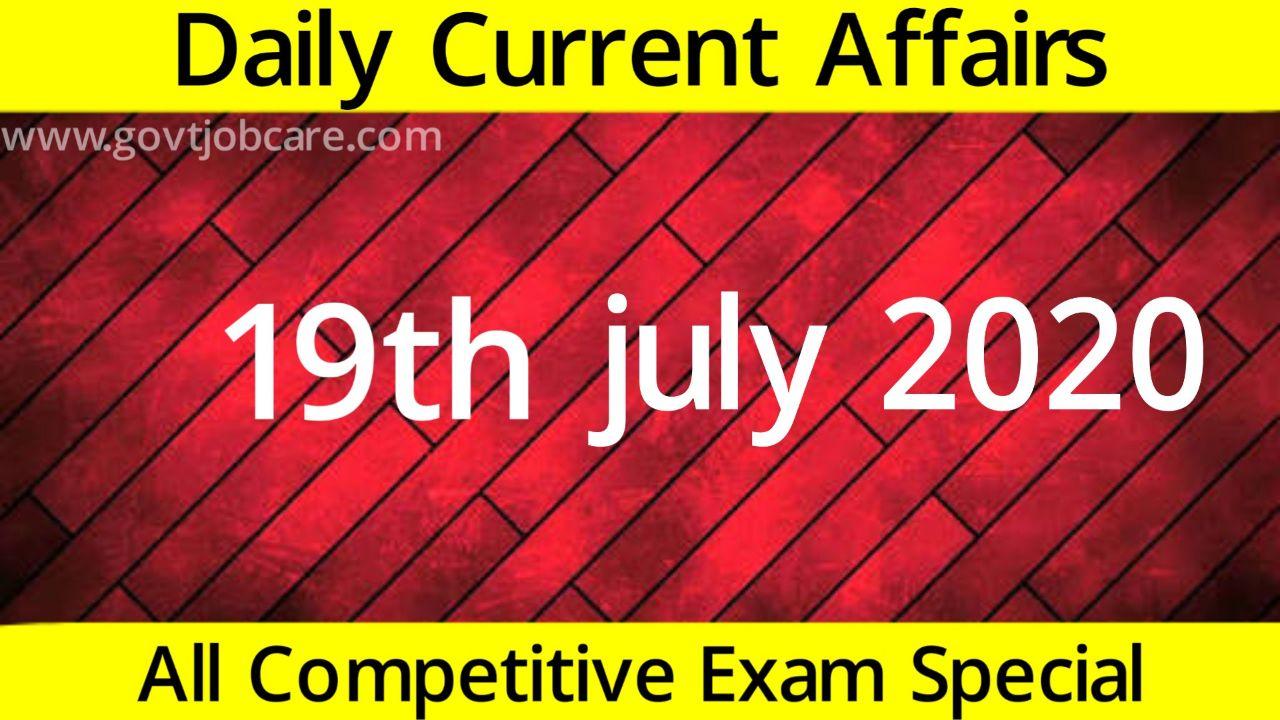 Exclusive Top Current Affairs: 2020 Current Affairs Pdf is a very important subject for all examinations. Exclusive Top Current Affairs is the section in which candidates or all students are able to solve more and more Weekly Current Affairs questions in a short time and can bring more marks or scores in the examinations. Online Exclusive Top Current Affairs GK Question, you do not need to do special effort to memorize the questions of the online GK quiz test, but you need to read the questions carefully. July Current Affairs Pdf 2020 provided here, It is very important for you to have the strong general knowledge to get success in UPSC, UGC, NET, WBCS, RAIL, POLICE, RPF, TET, NTPC, PSC, GROUP-D, SSC, etc.
19th July 2020 Exclusive Top Current Affairs
1. Union Food Processing Minister Harsimrat Kaur Badal recently inaugurated "Zoram Mega Food Park" in Mizoram.
2. Bangladeshi journalist Shahidul Alam has been nominated for CPJ International Press Freedom Awards.
3. FIFA World Cup 2022 will be held in Qatar.
4. P. Praveen Siddharth has been appointed as the Personal Secretary to President Ramnath Kobind.
5. Recently Andhra Pradesh Government launched the First on-line NISHTHA program.
6. The CBSC Board has partnered with Google to conduct online classes.
7. Recently German forward and World Cup winner, Andre Schurrle announced his retirement from the game.
8. Visa partnered with Federal Bank to launch Secure services.
9. Neela Satyanarayana, the first woman Election Commissioner of Maharashtra, recently passed away at the age of 72.
10. Shobha De wrote a book titled "Lockdown Liasions Book one: leaving and other stories".
11. Argentine footballer Lionel Messi recently won the "Pichichi Award 2020".
Download: June 2020 Current Affairs Pdf
Download: 2020 Monthly Current Affairs Pdf
Daily Exclusive Top Current Affairs July 2020:
Govtjobcare Current Affairs
Govtjobcare Current Affairs:
Exclusive Top Current Affairs: It is very important for you to have the Exclusive Top Current Affairs to get success in UPSC, UGC, Net, WBCS, Rail, Police, RPF, NTPC, PSC, Group-d, SSC, or other examinations. Because Govtjobcare Current Affairs are asked a lot. If your current affairs are good, then in this you can solve more questions in a very short time and you can spend the remaining time in the questions of international current affairs, psc current affairs, speedy current affairs 2020, new current affairs 2020, online current affairs and other subjects and get good marks. For current affairs related questions, you can visit this website regularly because it is the best website for current affairs. Here we update the latest current affairs. Maximum questions related to current affairs are asked in the examinations. For this, you visit here regularly to prepare for the best current affairs.