New Latest Current Affairs 28th September 2020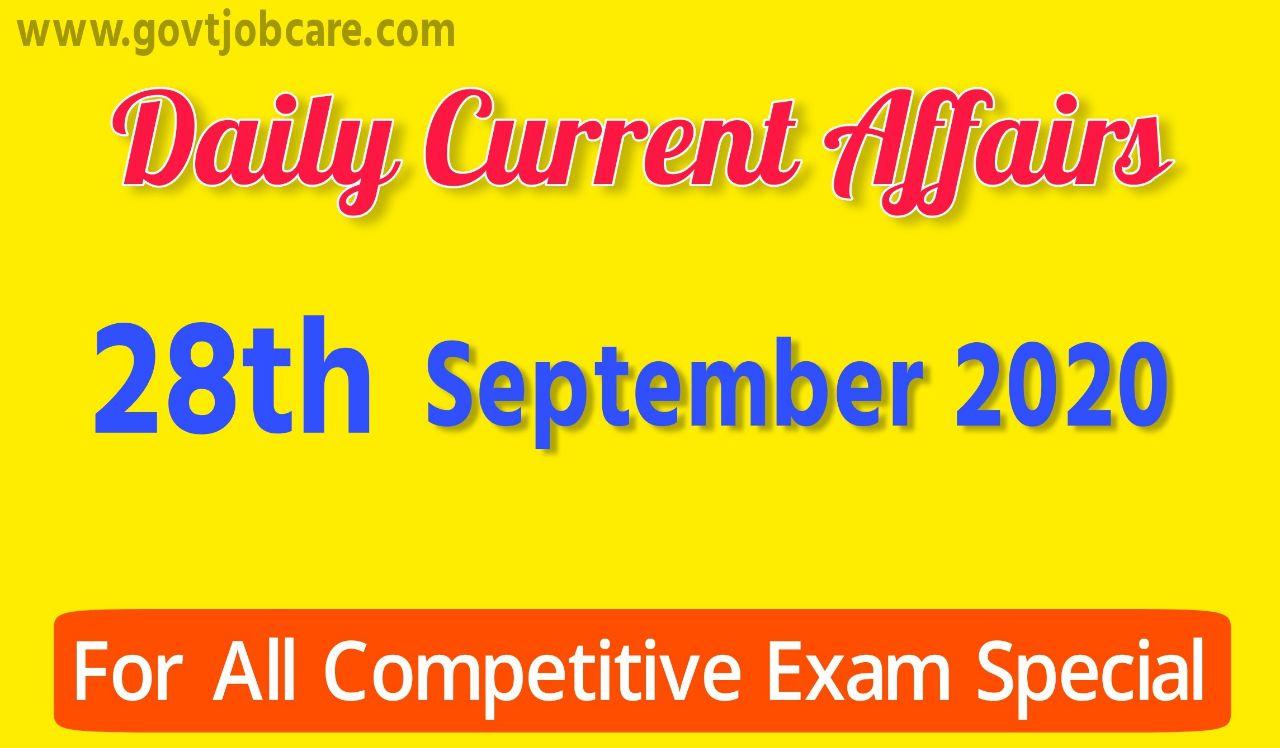 New Latest Current Affairs: 2020 Current Affairs Pdf is a very important subject for all examinations. New Latest Current Affairs is the section in which candidates or all students are able to solve more and more Weekly Current Affairs questions in a short time and can bring more marks or scores in the examinations. Online New Latest Current Affairs GK Question, you do not need to do special effort to memorize the questions of the online GK quiz test, but you need to read the questions carefully. September Current Affairs Pdf 2020 provided here, It is very important for you to have the strong general knowledge to get success in UPSC, UGC, NET, WBCS, RAIL, POLICE, RPF, TET, NTPC, PSC, GROUP-D, SSC, etc.
28th September 2020 New Latest Current Affairs
"World Rabies Day" is celebrated on 28th September every year.

The theme of this year's "World Rabies Day" was "End Rabies: Collaborate, Vaccinate".

Rajasthan launched "Moksha Kalash Yojana-2020".

Blood Bank was created for the first dog in Ludhiana in North India.

"Mukhyamantrir Grammya Paribahan Achoni Yojana" was launched by Assam Chief Minister Sarbananda Sonowal.

India is ranked 89th in "World Risk Report 2020".

Nongmeikapam Kotiswar Singh has been appointed as the Chief Justice of Guwahati High Court.

Kerala received UNIATF AWARD 2020 for outstanding contributions to the prevention of non-communicable diseases.

Lynn Fedrick Dsouza has been appointed President of the Aviation Council of the Women's Indian Chamber of Commerce and Industry.

"Ap Police Seva app" launched by the Government of Andhra Pradesh.
Download: Click Here Current Affairs 2020 Monthly Pdf
Daily New Latest Current Affairs September 2020:
Govtjobcare Current Affairs
Govtjobcare New Latest Current Affairs:
Govtjobcare New Latest Current Affairs: It is very important for you to have the Govtjobcare New Latest Current Affairs to get success in UPSC, UGC, Net, WBCS, Rail, Police, RPF, NTPC, PSC, Group-d, SSC, or other examinations. Because Govtjobcare Current Affairs are asked a lot. If your current affairs are good, then in this you can solve more questions in a very short time and you can spend the remaining time in the questions of international current affairs, psc current affairs, speedy current affairs 2020, new current affairs 2020, online current affairs and other subjects and get good marks. For current affairs related questions, you can visit this website regularly because it is the best website for current affairs. Here we update the latest current affairs. Maximum questions related to current affairs are asked in the examinations. For this, you visit here regularly to prepare for the best current affairs.