Best New Current Affairs: Govtjobcare Current Affairs 22nd July 2020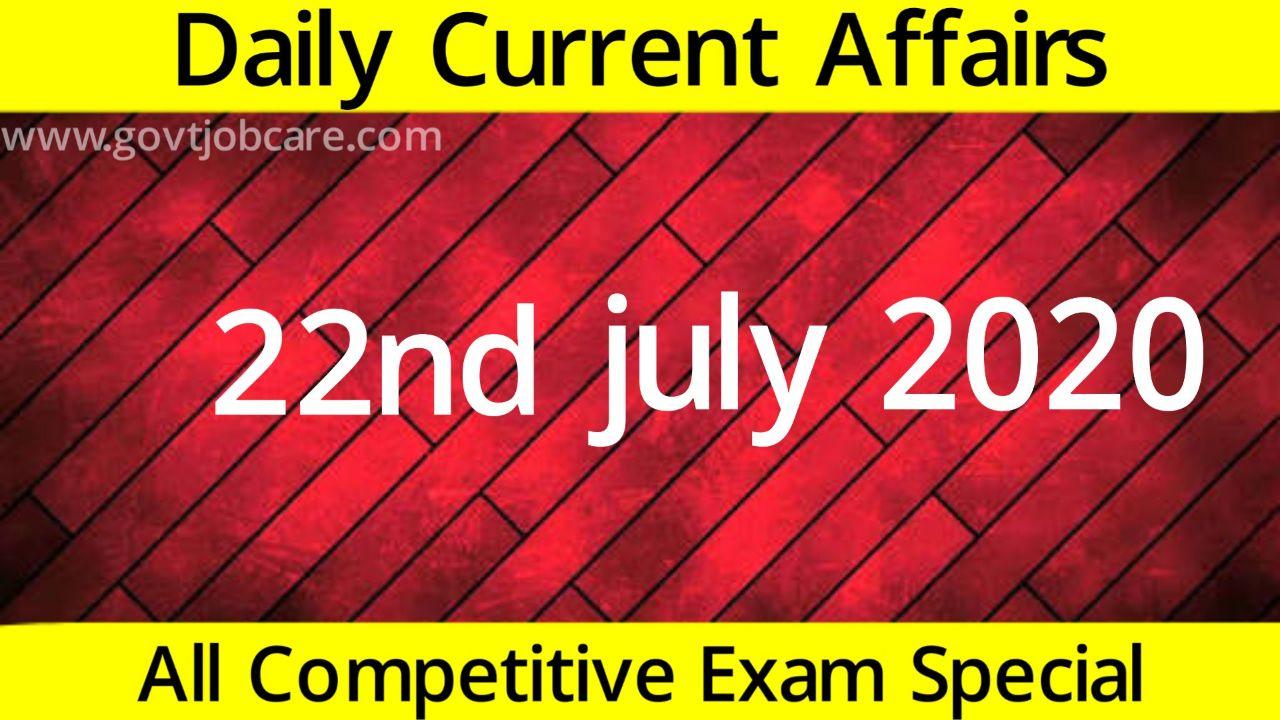 Best New Current Affairs: 2020 Current Affairs Pdf is a very important subject for all examinations. Best New Current Affairs the section in which candidates or all students are able to solve more and more Weekly Current Affairs questions in a short time and can bring more marks or scores in the examinations. Online Best New Current Affairs GK Question, you do not need to do special effort to memorize the questions of the online GK quiz test, but you need to read the questions carefully. July Current Affairs Pdf 2020 provided here, It is very important for you to have the strong general knowledge to get success in UPSC, UGC, NET, WBCS, RAIL, POLICE, RPF, TET, NTPC, PSC, GROUP-D, SSC, etc.
22nd July 2020 Best New Current Affairs
1. Bajaj Finance Ltd. Rahul Bajaj resigns as its Chairman.
2. Home Minister Amit Shah recently launched "Vriksharopan Abhiyan".
3. Natarajan Chandrasekaran and Jim Taiclet received the US-India Business Council (USIBC) Global Leadership Award 2020.
4. UPI AutoPay was recently launched by the National Payment Corporation of India (NPCI).
5. Recently Haryana Government is going to launch "Kisan Mitra" project.
6. South Korea recently launched the first military satellite named "ANASIS-II"
7. International Center for Automotive Technology (ICAT) launches e-portal "ASPIRE" for technology development
8. The government of Uttarakhand recently launched Anti-Dengue Campaign.
9. Russia's parliament has recently begun the process of banning same-sex marriage.
10. Ramesh Babu Boddu has recently been appointed Managing Director and CEO of Karur Vysya Bank.
Download: June 2020 Current Affairs Pdf
Download: 2020 Monthly Current Affairs Pdf
Daily Best New Current Affairs July 2020:
Govtjobcare Current Affairs
Govtjobcare Current Affairs:
Best New Current Affairs: It is very important for you to have the Best New Current Affairs to get success in UPSC, UGC, Net, WBCS, Rail, Police, RPF, NTPC, PSC, Group-d, SSC, or other examinations. Because Govtjobcare Current Affairs are asked a lot. If your current affairs are good, then in this you can solve more questions in a very short time and you can spend the remaining time in the questions of international current affairs, psc current affairs, speedy current affairs 2020, new current affairs 2020, online current affairs and other subjects and get good marks. For current affairs related questions, you can visit this website regularly because it is the best website for current affairs. Here we update the latest current affairs. Maximum questions related to current affairs are asked in the examinations. For this, you visit here regularly to prepare for the best current affairs.