Current Affairs Quiz in English: Govtjobcare Current Affairs 20th/21st April 2020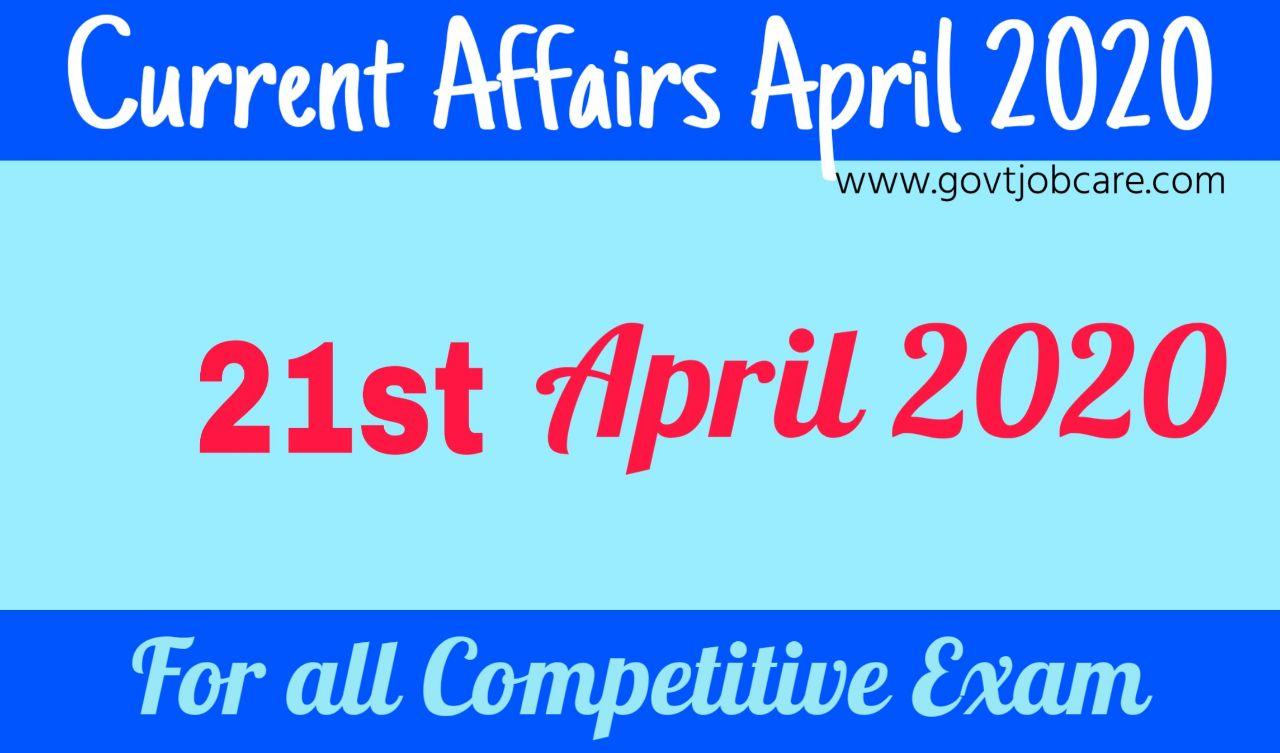 Current Affairs Quiz in English: 2020 Current Affairs Pdf is a very important subject for all examinations. Current Affairs Quiz in English is the section in which candidates or all students are able to solve more and more Weekly Current Affairs questions in a short time and can bring more marks or scores in the examinations. Online Current Affairs GK Question, you do not need to do special effort to memorize the questions of the online Current Affairs Quiz in English test, but you need to read the questions carefully. April Current Affairs Pdf 2020 provided here, It is very important for you to have the strong general knowledge to get success in UPSC, UGC, NET, WBCS, RAIL, POLICE, RPF, TET, NTPC, PSC, GROUP-D, SSC, etc.
20th & 21st April 2020 Current Affairs Quiz in English
1. Every year 21st April "National Civil Service Day" is celebrated.
2. "World Creativity and Innovation Day" is observed on 21st April.
3. Every year on 20th April, "Chinese Language Day" is celebrated worldwide.
4. Goa is the first complete Corona Free State of India and Manipur is the second Corona Free State.
5. Kapil Dev Tripathi has been appointed as the new Secretary to President Ramnath Kobind.
6. ICICI Bank launches "Voice Banking Services" for customers.
7. Maharashtra Government distributes 43 lakh quintals of food grains for the poor.
8. The government of India has launched a web portal called "covidwarriors.gov.in" to fight against Covid-19.
9. Famous Oscar-winning animator, film director and producer Gene Deitch, creator of the "Tom and Jerry" cartoon, has passed away.
10. N Kamakodi re-appointed as Managing Director and CEO of City Union Bank.
Daily Current Affairs Quiz in English April 2020:
Govtjobcare Current Affairs: It is very important for you to have the Current Affairs Quiz in English to get success in UPSC, UGC, Net, WBCS, Rail, Police, RPF, NTPC, PSC, Group-d, SSC, or other examinations. Because Govtjobcare Current Affairs are asked a lot. If your current affairs are good, then in this you can solve more questions in a very short time and you can spend the remaining time in the questions of international current affairs, psc current affairs, speedy current affairs 2020, new current affairs 2020, online current affairs and other subjects and get good marks. For current affairs related questions, you can visit this website regularly because it is the best website for current affairs. Here we update the latest current affairs. Maximum questions related to current affairs are asked in the examinations. For this, you visit here regularly to prepare for the best current affairs.