Update Current Affairs: Govtjobcare Current Affairs 27th July 2020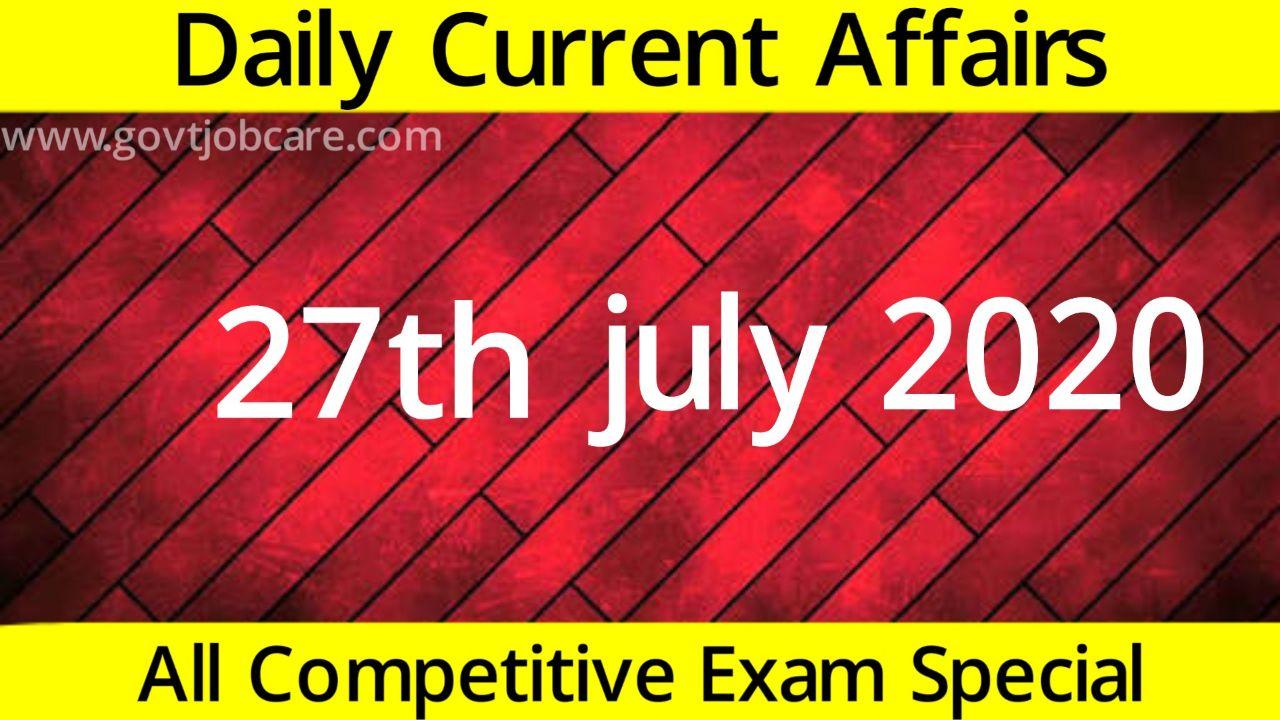 Update Current Affairs: 2020 Current Affairs Pdf is a very important subject for all examinations. Update Current Affairs is the section in which candidates or all students are able to solve more and more Weekly Current Affairs questions in a short time and can bring more marks or scores in the examinations. Online Update Current Affairs GK Question, you do not need to do special effort to memorize the questions of the online GK quiz test, but you need to read the questions carefully. July Current Affairs Pdf 2020 provided here, It is very important for you to have the strong general knowledge to get success in UPSC, UGC, NET, WBCS, RAIL, POLICE, RPF, TET, NTPC, PSC, GROUP-D, SSC, etc.
27th July 2020 Update Current Affairs
1. "CRPF Raising Day" is celebrated on 27th July every year.
2. Khelo India Youth Games 2021 will be held in Haryana.
3. Vivek Ram Chowdhury has been appointed as the Commander-in-Chief of the Western Air Command.
4. The Delhi Government has recently launched a portal called "Rozgar Bazar".
5. Lieutenant Governor, Girish Chandra Murmu recently launched Macadamisation Program.
6. he Indian Institute of Management Kozhikode (IIM-K) created the "Veli brand" to maintain social distance.
7. Anandiben Patel has been appointed as the Governor of Madhya Pradesh.
8. "KAZI 106F" – The only golden tiger in India is in Kaziranga National Park in Assam.
9. The theme of India Ideas Summit 2020 was "Building a Better Future".
10. Liverpool Football Club Captain Jordan Henderson received the 2020 FWA Footballer of the Year Award.
Download: June 2020 Current Affairs Pdf
Download: 2020 Monthly Current Affairs Pdf
Daily Update Current Affairs July 2020:
Govtjobcare Current Affairs
Govtjobcare Current Affairs:
Govtjobcare Current Affairs: It is very important for you to have the Update Current Affairs to get success in UPSC, UGC, Net, WBCS, Rail, Police, RPF, NTPC, PSC, Group-d, SSC, or other examinations. Because Govtjobcare Current Affairs are asked a lot. If your current affairs are good, then in this you can solve more questions in a very short time and you can spend the remaining time in the questions of international current affairs, psc current affairs, speedy current affairs 2020, new current affairs 2020, online current affairs and other subjects and get good marks. For current affairs related questions, you can visit this website regularly because it is the best website for current affairs. Here we update the latest current affairs. Maximum questions related to current affairs are asked in the examinations. For this, you visit here regularly to prepare for the Update Current Affairs.