Most Important Current Affairs: Govtjobcare Current Affairs 28th April 2020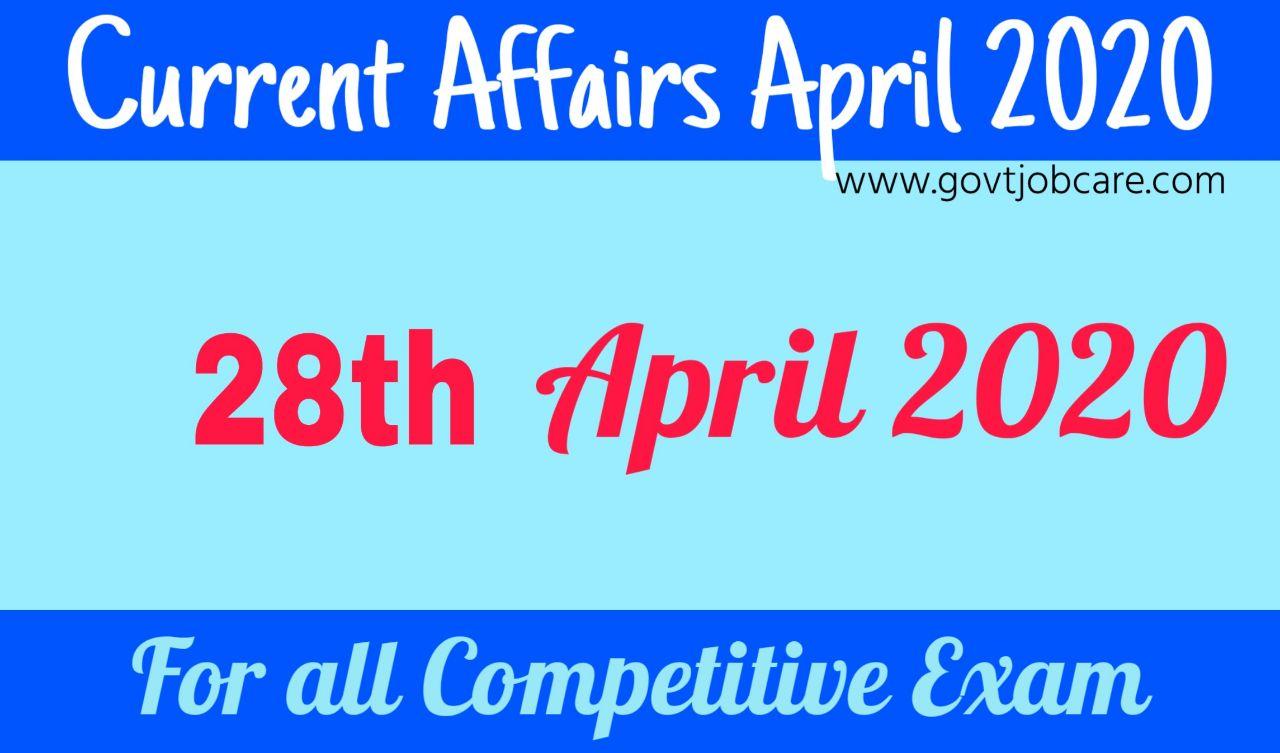 Most Important Current Affairs: 2020 Current Affairs Pdf is a very important subject for all examinations. Most Important Current Affairs is the section in which candidates or all students are able to solve more and more Weekly Current Affairs questions in a short time and can bring more marks or scores in the examinations. Online Current Affairs GK Question, you do not need to do special effort to memorize the questions of the online GK quiz test, but you need to read the questions carefully. April Most Important Current Affairs 2020 provided here, It is very important for you to have the strong general knowledge to get success in UPSC, UGC, NET, WBCS, RAIL, POLICE, RPF, TET, NTPC, PSC, GROUP-D, SSC, etc.
28th April 2020 Most Important Current Affairs
1. 28th April "World Day for Safety and Health at Work" is observed.
2. Eastern Railway Radhikapur-Howrah Express train was renamed as Kulik Express.
3. US President Trump has appointed Sudarshanam Babu of Indian descent to the top US science board.
4. District Management Authority of Uttarakhand launched "Dristi Portal" to provide accurate information regarding Covid-19.
5. Pakistan Cricket Board has banned Pakistan cricketer Umar Akmal from all forms of cricket for three years.
6. The Andhra Pradesh government again introduced the "Zero Interest" loan scheme for women's self-help groups.
7. Indian runner Jhuma Khatun, who was banned for 4 years Athletics Integrity Unit (AIU).
8. Malini Shankar has been appointed as the Director General of the National Shipping Board.
9. The Assam government announced life insurance of Rs 50 lakh for first-line journalists.
10. Airtel signed a $1 billion deal with Nokia to increase network capacity.
Daily Most Important Current Affairs April 2020:
Govtjobcare Current Affairs: It is very important for you to have the Most Important Current Affairs to get success in UPSC, UGC, Net, WBCS, Rail, Police, RPF, NTPC, PSC, Group-d, SSC, or other examinations. Because Govtjobcare Current Affairs are asked a lot. If your current affairs are good, then in this you can solve more questions in a very short time and you can spend the remaining time in the questions of international current affairs, psc current affairs, speedy current affairs 2020, new current affairs 2020, online current affairs and other subjects and get good marks. For current affairs related questions, you can visit this website regularly because it is the best website for current affairs. Here we update the latest current affairs. Maximum questions related to current affairs are asked in the examinations. For this, you visit here regularly to prepare for the Most Important Current Affairs.